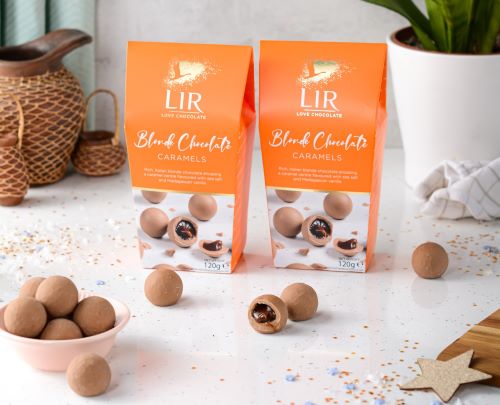 Lir Chocolates unveil exquisite new flavours & festive packaging for Christmas
For Christmas 2023, legendary Irish chocolatier Lir is launching a stunning new range with delicious flavour combinations and gorgeous, eye-catching packaging. Hand-finished by Lir's talented chocolatiers in Navan, Co. Meath, the Lir 'Love Chocolate' Collection offers a delicious combination of smooth caramel, dark pralines and zesty fruit-filled chocolates.
New flavours in this beautifully balanced collection, include the 'Blonde Salted Caramel Baton' a sumptuously rich, Italian blonde chocolate encasing a luscious, caramel centre flavoured with subtle notes of sea salt and Madagascan vanilla. The 'Dark Chocolate Ganache' delights with an outer casing of elegant, silky-smooth Belgian dark chocolate encasing an intense Madagascan vanilla-flavoured ganache. Divine, decadent, and delicious!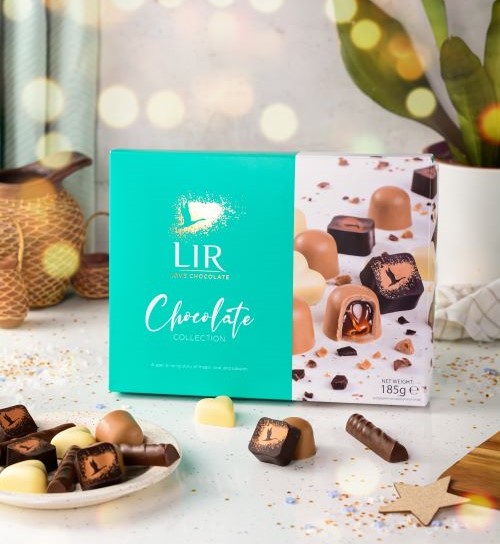 Fruit and chocolate lovers will adore the 'Raspberry Ganache Heart', an artisan crafted shell of the finest Belgian white chocolate filled with a zesty, mouth-watering raspberry ganache…this is chocolate heaven! Another crowd pleaser is certain to be the 'Irish Cream Liqueur', a rich, creamy luxurious liqueur truffle wrapped in smooth, velvety milk chocolate. Together, they create a unique and bewitching taste experience.
The Lir 'Love Chocolate' Collection is presented in beautiful, soft green packaging, with a gorgeous Gift Box (185g – RRP €10) and a stunning Gift Wrap Box (225g – RRP €12) which is complete with a luxurious green ribbon, making it the perfect gift for loved ones this Christmas.
Also new to the Lir Collection is the Blonde Chocolate Caramel Box (120g – RRP €6) which joins the Lir Chocolate Salted Caramel Truffle Box and the Lir Marc De Champagne Truffle Box (both 145g – RRP €6) which hit shelves this November and are ideal for those smaller gifting occasions.
Orfhlaith Nagle, Brand Manager, Lir Chocolates commented:
"We're so delighted to introduce our new look Lir 'Love Chocolate' Collection with its gorgeous new combinations which our amazing team of chocolatiers have been busy creating over the past year. At Lir, we are so proud of our Irish heritage and wanted to reflect that in this latest brand development. Quality and taste are at the heart of everything we do and we're excited for our loyal and new customers to enjoy these delights, as much as we enjoy making them."
In further good news, the much-loved Lir Factory Shop at the company's headquarters in Navan, Co. Meath will reopen its doors in time for Christmas 2023. The treasure trove of chocolate goodies will open in early November and shoppers can visit Mon to Fri from 9.30am – 4.30pm.
The Lir Love Chocolate range is available from selected Tesco, Supervalu, Centra, Dunnes Stores, Carrolls Irish Gifts, Nolans, Donnybrook Fair and Dublin Airport. You can also shop for both online at www.lirchocolates.com.