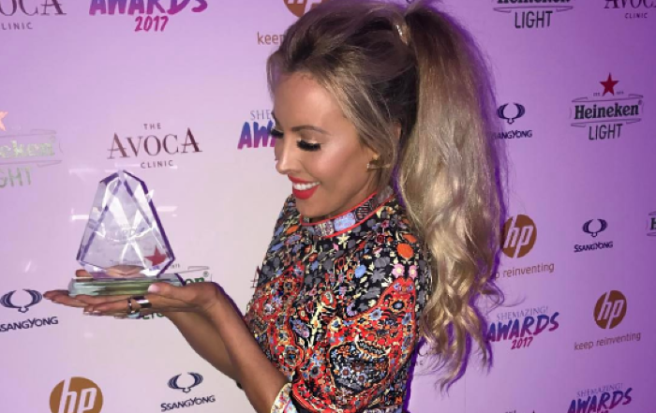 Just Jordan is our Best Dressed winner at the SHEmazing! Awards

Thursday night saw Ireland's biggest, brightest and best influencers take to the red carpet at the Mansion House in Dublin for the inaugural SHEmazing! Awards.
The style stakes were high, but mega-blogger and makeup artist Lisa Jordan took home the award for Best Dressed attendee on the night.
There was some fierce competition, but ultimately the SHEmazing! team, along with James Kavanagh who was announcing the winner, thought that the Just Jordan founder's look was drop dead gorgeous.
With 82,000 followers on Instagram, the fashion guru shared her amazing look with her fans, who completely loved it, and we agreed.
Donning an elegant but eclectic dress by Camino Couture, the mum-of-one looked stylish and striking in her stand-out ensemble.
The blogger added a perfectly coordinating pair of gold strappy high heels and a gold handbag to the look, completing the sartorially sound ensemble.
'I was sent this beautiful dress from Camino Couture in the UK, they're a new enough brand but I absolutely adore it, I think it's a bit bright but with the weather and everything it will go down fine,' said the blogger as she took to the red carpet at he SHEmazing! Awards.
The professional makeup artist accentuated her features with a bright red lip, long lashes and a tussled high ponytail.
Congratulations on your win, Lisa!