In 2004 Emma Stone was a reality TV show star and it was EPIC
Around here we really do enjoy a good celebrity throwback.
This week, we were very intrigued when a clip showed up on Instagram that showed Emma as an angsty teenager giving a fabulous rendition of Bitch on a VH1 series from 2004.
We all know her as the actress who always knows how to make us laugh, cry, and everything in between. She's an incredibly talented actress that just scored a 2015 Oscar nomination for her stellar performance in Birdman. She has also inspired some of the internets absolute favourite GIFs.
But did you know how exactly she got her start in Hollywood?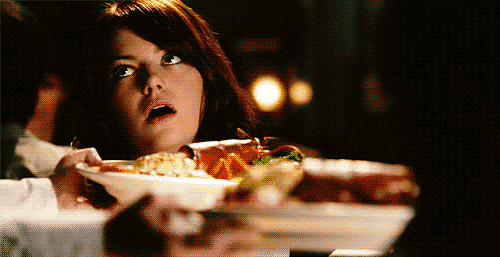 Apparently, it all started on In Search of the Partridge Family, a VH1 reality series that was searching for people to star in a TV series called The New Partridge Family. Emma did go on to win a role on the aforementioned show, and she did got to show off her singing skills with her performance of Bitch.
Let us never forget the era of tan leather pants and Emma Stone being a reality TV star.
Also of note, 16-year old Emma Stone was then going by Emily Stone. Her real name is in fact Emily Jean Stone, Emma is the stage-name she has adopted since then.