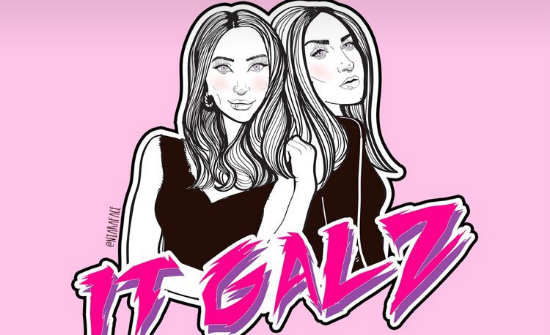 If you listen to no other Irish feminist podcast, make it IT GALZ
There is a podcast for everything these days, but it's not too often that an independent, niche show climbs the iTunes charts or takes the top spot.
However, in the case of feminist podcast It Galz, dominating the charts is a regular occurrence.
Run by two fine-ass feminists Jenny Claffey and Lindsay Hamilton, the women are bringing real talk and relevant listening experiences to our ears in hour long segments.
It Galz is an engaging endeavour, chipping away at the veneer of how we usually view women, be that through a prescribed interview or Instagram filter, and delving into the modern, Irish female experience.
Free flowing and far from contrived, the galz, who are best friends IRL, use their own experiences to illustrate life as a woman in this country.
While their experiences are eclectic and Dublin-centric, the duo eloquently describe relatable concepts through their personal stories, and voice opinions that reflect those of the majority.
The episodes are peppered with 'she just said exactly what I've always thought!' moments, as the fierce and hilarious women explore themes such as female friendships, dating in Dublin and social media influencers, saying the things most people have never felt they could vocalise (but have always thought) about our society.
Exposing intimate details about their personal lives, the galz reflect on relationships, life lessons and house parties past.
In one of my personal favourite podcasts, Is Beauty Blogging Dead, the ladies unapologetically dissect the Irish blogging industry, and describe issues with the phenomenon in better terminology than most Gucci-belt wearing, skinny tea sipping influencers could themselves.
'When the whole influencer thing really exploded we definitely noticed a gap in the market for 'real talk', Lindsay told The Daily Edge.
'That's when I think we started to see our conversations as important and that they could help the women of Ireland today who are being fed so much false content.'
Evidently opposed to the idea of creating inauthentic content, the girls seem to naturally have the knack for conceptualising relevant topics for their series, with episodes like Gal Palz which discusses the intricacies of female friendship, and Dating Talez, which ventures into the murky waters of dick pics and male entitlement.
Though the podcast is a laugh a minute, the integral elements of educating women on their rights and reminding girls that there are fierce woman in this country who are young, edgy and not afraid to speak their minds are there.
Also, if you're looking for a new page to follow, their Instagram is a gas bundle of 90s and 00s nostalgia throwbacks that are giving us life at the moment.
Did you know we have a Spotify playlist?! It's https://t.co/REgTzxCfZH

— IT GALZ (@itgalzpodcast) April 12, 2017
Fine-ass feminists is definitely the correct adjective to describe these women, and they encourage their listeners to embrace the term too.
Ultimately, this new podcast has to be one of the most engaging, relevant and authentic on the Irish market right now, and if the feedback on their current episodes is anything to go by, the pair are set to go from strength to strength.
It's high time Ireland had more women taking to the podcast podium to express themselves and project the feelings of their fellow females, and Jenny and Lindsay are doing exactly that.
Find them on Spotify, iTunes, and Soundcloud.