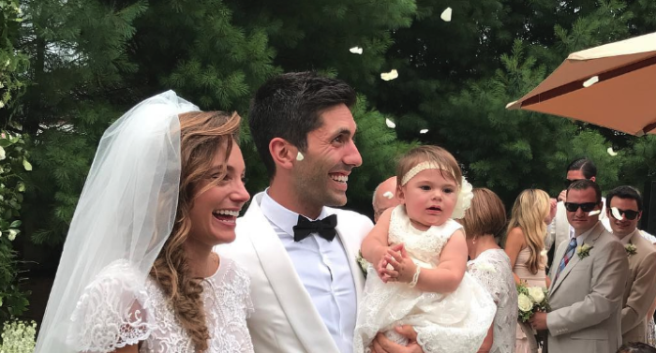 Her DRESS! Catfish star Nev Schulman marries Laura Perlongo
Congratulations are in order for Nev Schulman and Laura Perlongo – they're officially married.
The Catfish star tied the knot over the weekend in a romantic ceremony in East Hampton, New York.
The wedding took place in Nev's father's home, and we have to say it looked absolutely gorgeous.
They were joined on the day by their nine-month-old daughter Cleo, and she looked just as beautiful as her mam.
The bride donned a two-piece gown, comprising of an embellished crop top and long skirt, while Cleo wore an adorable white lace dress.
The marriage was officiated by YouTube star Casey Neistat, and after the ceremony Nev's Catfish co-star Max Joseph made a speech.
After the ceremony, the couple changed into more comfortable attire, with Laura wearing a white two-piece swimsuit with a white lace kimono.
Looking at the pictures, it seems like everyone had a wonderful day.