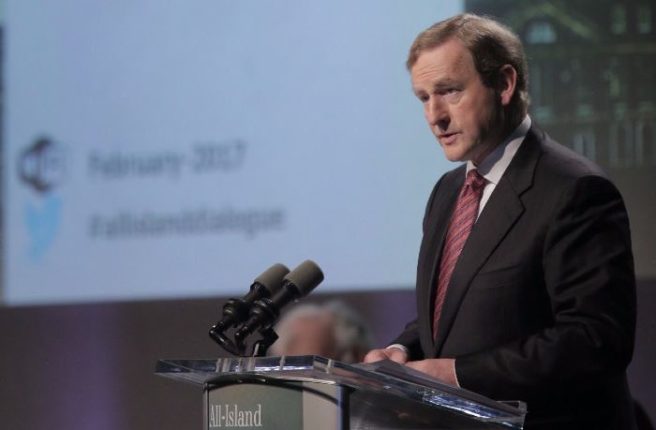 Global praise for Enda Kenny's speech, but Twitter's not happy
Taoiseach Enda Kenny has received global recognition for his speech about Irish immigration in Washington.
Using the annual St Patrick's day visit to discuss the contribution of the Irish community in the US, the Taoiseach used the shamrock ceremony speech to "lecture" President Trump on immigration.
"Four decades before Lady Liberty lifted her lamp we were the wretched refuse on the teeming shore.
"We believed in the shelter of America, in the compassion of America, in the opportunity of America. We came and became Americans," he said, as Trump looked on.
quite proud of @EndaKennyTD sticking it to @realDonaldTrump. Best Taoiseach ever @WhiteHouse @VP

— Tom (@tomnev) March 18, 2017
Now, Twitter is full of praise for Enda's speech from people from all over the world, but some Irish folk are claiming that the praise is misguided.
"Do you know how Ireland treats asylum seekers? it's a system called "direct provision" and it's brutal, worse than you can imagine," said one, referring to the short-term accommodation that asylum seekers live in in Ireland.
okay all you americans who are heaping praise on taoiseach (or in your words "irish PM") enda kenny need to fucking educate yourselves now

— ciara (@scarlehwitch) March 17, 2017
Others found it hypocritical that Enda would refer to people leaving their countries due to a lack of liberty, while some feel that Irish women are currently being deprived of their reproductive rights due to the 8th amendment to the constitution.
The 8th amendment, which has come under much opposition in recent years thanks to the work of The Abortion Rights Campaign and the Repeal project, means that Irish women face up to 14 years in prison for obtaining an abortion, and must flee the country to procure these services safely.
I am bemused by the fact that Enda Kenny has spoke about the Irish escaping to America because they were deprived of liberty at home, 1/2

— Straight Talking Alf (@AlfieWWhite) March 18, 2017
but he's fully supporting depriving women of their reproductive rights in Ireland. 2/2

— Straight Talking Alf (@AlfieWWhite) March 18, 2017
However, the majority of people feel that the Taoiseach's speech was a subtle burn directed toward's the POTUS and his travel ban.
"I don't like Enda Kenny and I doubt I ever will, but the speech he made was brave and respectable," said one.