Festive fashion sorted: How to wear velvet and not look like Mrs Claus
Once only affordable to the rich and famous, velvet is now one seriously classic and versatile fabric.
Let's be thankful then that it crops up everywhere from designer runways, to high-street rails… and even your granny's attic.
Warm, luxurious and rich in texture, having a key velvet piece is basically a necessity for ALL winter wardrobes.
Let's face it though, the material is also notoriously difficult to style. Yup get it wrong and it will only look costumey and awkward.
So if you are worried your velvet creations will be a bit too on the nose this festive season, here is how to remain fashion forward (and not a fashion fail).
Tailored
Avoid wearing a lot of slouchy velvet and instead opt for tailored, fitted lines. A velvet suit is a handy trick to keep up your velvety sleeve as it transitions from business to casual seamlessly. Incorporate into a professional wardrobe for some rock chic texture or pair with a pair of trainers for day time cool.
All in one
Don't be afraid to purchase a velvet piece for the party season. Dresses, playsuits and jumpsuits in this fabric are instantly glamorous and will add some warmth on those cold winter evenings. Pair velvet pieces with stripped back accessories in cool tones and minimal jewellery so that you don't venture into costume territory.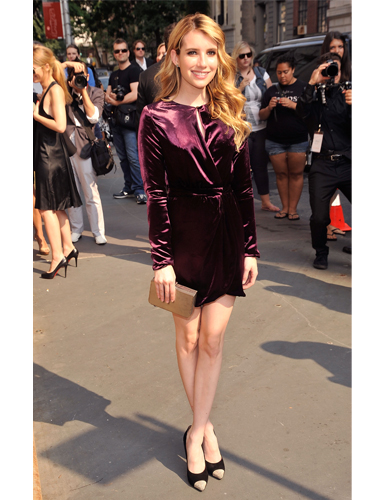 Mix n match
Having velvet options can add new texture to your wardrobe that you may not have even known you were missing. Incorporate velvet shorts, a t shirt or cardigan into any outfit to add some depth as well as a soft touch. Velvet tends to come in super rich tones so style it up with solid colours such as grey, black, brown or navy.
Style it up
If you are a bit fearless and want to add even more opulence to the most luxurious fabric on the planet, instead of layering it on, try opting for ornate patterns. Velvet is often used to create beautiful designs on plain fabric so use this for instant glamour. Pair ornate pieces with simple accessories that don't overpower your look.
Style it down
Velvet CAN be dressed down, but do it in the right way. Pair your velvet leggings with slouchy cardigans and a beanie or throw your velvet blazer over a pair of distressed boyfriend jeans and trainers. Velvet can give any casual look a sense of refinement.