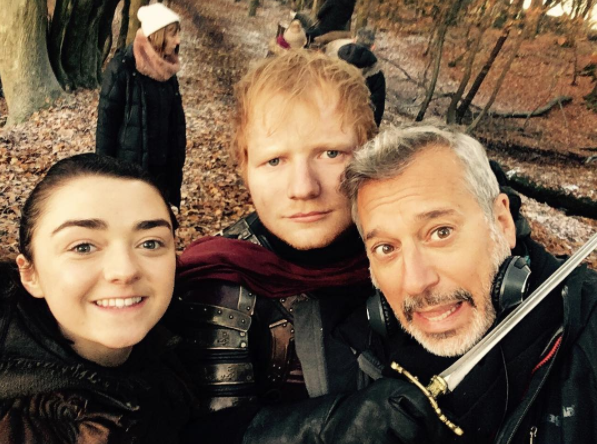 Ed Sheeran's GoT cameo sent Twitter into meltdown last night
Ed Sheeran made his much anticipated Game of Thrones cameo in the first episode of the seventh series – and naturally, Twitter went into meltdown.
As we all know, Ed is an extremely talented singer-songwriter, so it was only fitting that he gave us a little tune during his short appearance on screen.
The 26-year-old was dressed as a solider and was singing around a campfire when Arya Stark, played by Maisie Williams, rode through a forest on horseback.
#GoTS7 SPOILER ALERT: Special cameo by @edsheeran in Ep1. What will his songs reveal? Don't miss the encore tonight at 9pm (8pm Thai.Jkt). pic.twitter.com/HlJnVANbk7

— HBOAsia (@HBOAsia) July 17, 2017
"It's a pretty song, I've never heard it before," Arya said.
Ed's unnamed character replied, "It's a new one."
Masie also just so happens to be a huge Ed Sheeran fan, and according to reports, producers had been keen to get the singer on board as a surprise for the actress.
Fave singer & fave character in one frame #GameOfThrones #WinterIsHere @edsheeran @Maisie_Williams pic.twitter.com/ZmD3lnd1g4

— MJ (@mjlabitad) July 17, 2017
Although Ed's appearance was confirmed by the show's creators David Benioff and DB Weiss, fans did not know what episode. Needless to say everyone was a little shook when he popped up on screen.
Every single person when @edsheeran 's face popped up on #GameofThrones pic.twitter.com/o7mlbjXbNQ

— Noah Weisberg (@NoahWeisberg_) July 17, 2017
Wait, @edsheeran is that you?! #GameOfThrones pic.twitter.com/RGqcdcYD5U

— Devon Felder (@devonfelldown) July 17, 2017
This lil song is quite the bop, I've got to admit. WAIT IS THAT ED SHEERAN ARE YOU KIDDING ME #GameOfThrones pic.twitter.com/pGH9ekn0tz

— Andrea Wurzburger (@a_wurzburger) July 17, 2017
WAIT HANG ON IS THAT ED SHEERAN LMAO #GameofThrones pic.twitter.com/UbNtB2OvU1

— Game of Thrones (@ItsGoTQuote) July 17, 2017
The Shape of You singer also took to Instagram to celebrate his cameo performance.
"Throwback to the time I was a Lannister," he wrote.
Game Of Thrones first aired on Sky Atlantic and Now TV at 2:00am and will be repeated at 9:00pm.