April Fools: Penneys just pulled a major prank – and we are loling
Popping into Penneys is never a singular activity – you attempt to venture into it's hallowed halls for just one thing you need, be it bobby pins, tights or makeup rounds, but end up leaving laden down with their signature brown paper bags.
There is always a fabulous coat that catches the eye, or a cheap as chips piece of jewellery that elevates all of our outfits.
One thing we also end up stocking up on in Penneys is socks – and with April Fools Day upon us, Penneys decided to treat us to a little sock-related prank.
Posting to the Primark Instagram, the bargain brand uploaded a sun rise snap of a Primark branded vending machine perched by a wall in Temple Bar. You can spot the corner of The Temple Bar pub in the background as an early morning riser strolls by on his way to work just out of frame.
Clicking through the carousel of images, the blue machines can be spotted by European landmarks like Big Ben in London and Paris' Eiffel Tower. There are also shots of the machines sitting on sunny Italian streets and surveying the New York skyline – all under the very relatable hashtag #IOnlyCameInForSocks.
'Have you spotted something bold and blue in your capital city yet?' reads the caption.
'We can officially reveal our latest innovation; the Primark sock vending machine, providing you with the essentials when you need them most'
The machines are stuffed chock-a-block with rolls of handy socks (no fluffy ones, sadly) and honestly, we had a thrill of excitement after laying eyes on the machines.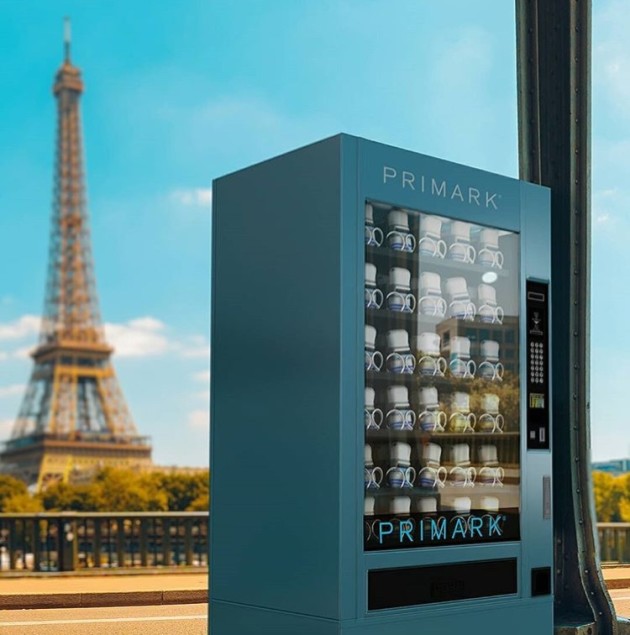 While we would honestly LOVE if 'Primark essentials' vending machines existed (how handy if you laddered your tights on a night out or needed an emergency pot of eyelash glue) this is simple a well-photoshopped prank.
Clearly, it's a great idea though, as many in the comments section lamented the fact that it's a prank.
'That would have been actually awesome as I mostly come in for the socks,' commented one.
'I would love this machine,' said another.
However some fans thought it might just be true: 'Are these anywhere in Glasgow?' wrote another.
Imagine if Penneys made these vending machines in time for festival season?
We would have the stuffed with cans of dry shampoo, socks of all assortments and power banks for our dying devices – and maybe a spare top or two.
Anyone want to start a petition for Penneys to make these a real thing?