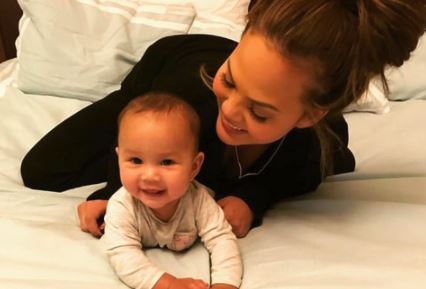 WATCH: Chrissy Teigen teaching Luna to speak is just too pure
We'll be honest; over the course of the last year, we've found ourselves utterly captivated by Luna Simone Stephens.
While some celebrity couples choose not to share footage of their children online, Chrissy Teigen and John Legend are only thrilled to give fans and followers an insight into family life with their baby daughter.
And we're here for it.
Taking to Instagram yesterday, 31-year-old Chrissy shared footage of her baby daughter getting to grips with her first set of words, and it's as adorable as you'd expect.
Prompting Luna with a variety of words including Chrissy and Dada, the Lip Sync Battle host (and the rest of us) are rewarded with the cutest voice you'll hear today. Or maybe, ever.
We mean, just take a look at this…
Oh, and one more thing while we have you! Don't forget that you can catch up on all your favourite shows for free for a month right here, so sign up now!