This blogger uses The Babysitters Club as style inspo and it's amazing
Along with Sweet Valley High, The Princess Diaries and Judy Blume's entire back catalogue, The Babysitters Club books pretty much defined our early teenage years.
Long before Carrie Bradshaw was running through puddles in a tutu, The Babysitters Club crew were making female friendships and feminism cool.
City girl Stacey (whose diabetes gave her a touch of mysterious glamour, let's face it), arty Claudia, book-mad Mary Anne, #GirlBoss Kristy, Mallory with her masso Irish Catholic family, floaty Dawn (who liked carob before it was cool) or dance fanatic Jessi… yup, we all idolised at least one of them.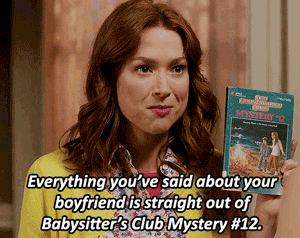 While there's been enough fan fiction based on the supposed adult lives of the girls to fill an entire library – and a recent reunion of the cast of the 1995 movie adaptation – we've always struggled to really imagine how they all turned out.
Would Claudia still rock a tie-dye jumper? Would Kristy ditch her baseball team merch? Would Jessi ever stop wearing legwarmers?
Well, one US-based blogger has clearly been wondering the same things, and has started a style series inspired by Stoneybrook's best babysitters. For each post, she creates an outfit and a persona – based on her imaginings of each Babysitters' Club member.
Each post is accompanied by a snapshot of the women's lives today, and they're surprisingly on-point.
There's Dawn, who now has a kale obsession, "refers to her morning runs as 'gifts'" and is the eternally positive friend you "love to hate":
Stacey, who "works in hedge fund analysis" and "finds comfort in numbers, the digits flashing through her computer, her blood sugar count, how many miles she ran on her fit bit band before she goes into the office":
Claudia, who's still arty AF, but with a touch more class:
Mallory, who still wears specs and now favours tights, boots and skater skirts:
Jessi, who unfortunately "had her ballet career sidelined" by an Achilles Tendon Injury, and now teaches Movement classes at Juliard, while doing comedy improv part-time and "trying to get pregnant with her husband, Dov."
Plus, who can forget Kristy, who is still a total #GirlBoss, "runs a nanny staffing agency," and "rejoiced when slouchy sweaters became en vogue."
Amazing.