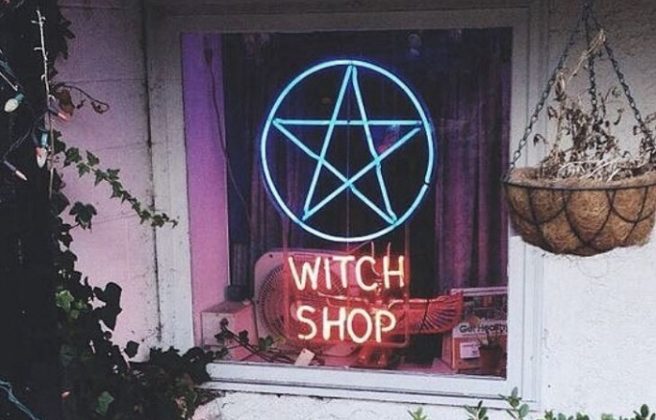 "I really love that I grew up in such a nature based way. My mother has such a great imagination, we would go for a walk in the woods and she'd be like 'let's go look for fairies.'"
Julia Harley Francisco-Simoes, a stop motion animator from Boston, has some rather unique artistic influences.
"I like my art to be weird-fantasy. I'm definitely influenced by Wicca."
As well as being a full-time art and design student, she is also a practising witch. No, I don't mean the Harry Potter kind. She's a Wiccan, a modern form of spirituality rooted in pagan beliefs.
Julia, who was born in Portugal and moved to New Bedford, Massachusetts, grew up surrounded by magic with a Wiccan mother.
"It was quite cool and secretive; she would go with her girlfriends to take part in rituals. She would always be burning sage around the house," Julia recalled.
"We would go to celebrations like May Day, and dance around the Maypole. I was never made read the Bible or anything like that. We always had spell books around the house. I suppose that's something that I've carried forward with myself into my own life."
Founded in the 1940's the practise of Wicca centres around traditional Pagan beliefs and the worship of a variety of deities. The Wiccan Rede constitutes as a guide for practising Wiccans, with the mantra "harm none and do what will."
"Many of the books I'd go to about Wicca are by authors with names like Wolfstein, Silver Wolf, or other funny and gothic names. It's sometimes like living in a Twilight novel," she laughs.
Most Wiccans believe in the Horned god and the Moon Goddess, who can encompass hundreds of deities across a range of cultural backgrounds, from Greek and Roman, to Hindu and Egyptian, to African and Celtic.
"Which tradition you follow largely depends on where you're from," Julia explains. "Since we're from Portugal I would follow the European traditions. Like warding off the evil eye."
Many Wiccans pick a deity to follow in their everyday life, however this is not always the case.
"I don't follow any particular deity, but when you do you try to emulate their values and what they stand for in your own life."
When one says that they are practising witch, it can be all too easy to picture broomsticks and cauldrons. However this is not the only misconceptions Wiccan's like Julia face.
"Most people associate Wicca with Satanism, when really they're completely different. It's because of the pentangle. The inverted pentangle is a symbol of Satanism but in Wicca the regular pentangle represents the five elements- air, earth, fire, water, and ether [spirit]."
Spells are less "bubble, double, toil and trouble" and more along the lines of positive thinking and picturing, or manifesting, things you want to happen.
"Spells are a form of self-divination. You picture something you really want in your head and drive all your motivation into that. It's trying to manipulate your auras and the universe to help your purpose."
"Each time it's worked I've been a bit shook, to be honest. There are spells for ill-will and blessing spells. Most of them do come back. That's why I only do positive ones."
"I must sound crazy," she laughs again. "Some of them are really bizarre. Like there was one love potion that asked you to lick a spoon and sleep with it under your pillow."
Many Wiccans employ the help of herbs or crystals, Julia herself recommends placing clear quartz stone on the forehead to help with migraines.
Fancy a little bit of magic in your life? Julia has shared two of her favourite potions that can be made at home, black cat not needed.
"Love Tea: Drink this tea from a pink cup before a date, or if you are just casting a love spell- You can also use this to soothe a broken heart.
Steep 2 tsp of the blend in 8Fl. oz. (250 ml) of hot water for 5 minutes. Use 2 tbsp crushed rose petals, 2 tbsp dried lavender buds, seeds of Vanilla pod or 1/2 tsp of pure vanilla extract.
"Relaxation Oil: Can be burnt in an aromatherapy lamp, or applied to the forehead or in a bath:
"1 fl oz. (30 ml) almond or jojoba oil, 3 drops of lemon balm, 3 drops of lavender oil, 3 drops of passionflower oil and one drop of rose or rosewood oil."
However, Julia won't be making any big batches of spells any time soon. She's far too busy working on fantastic album covers, sculpture, commissioned illustrations and music video- which you can check out here.
Fancy trying out a bit of witchery for yourself? Julia recommends stocking up on reading material such as The Witch's Journal.
While you may never have gotten that Hogwarts letter, that doesn't mean that you can't embrace a bit of magic.