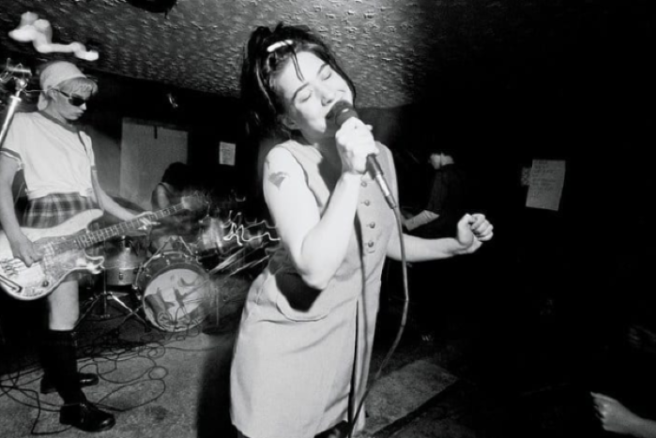 To be a woman in Ireland is to constantly feel like your body is a battleground. From the upcoming referendum on the Eighth Amendment to the larger discussion around consent, it's clear we have a long way to go in terms of equal rights.
And let's be honest – it's exhausting combatting misogyny day in and day out. However, we have to keep fighting the good fight, and this playlist is here to keep you going.
These songs are for you to listen to while smashing the patriarchy – whether it's at protests, as the only woman working in your office, or while teaching your younger siblings that things can change.
It's comforting to hear the voices of these women who are still rocking, or who have come before us to pave the way for bad bitches like ourselves.
Without further ado, here are the songs that will make you feel like you can kick ass, or simply help you remember you are not alone:
Dream Wife – 'Somebody'
This trio, originally formed in Brighton, is the coolest thing on six legs. Rakel Mjöll (lead vocals), Alice Go (guitar and vocals), and Bella Podpadec (bass and vocals) met in art school and have been making sweet, sweet music together ever since.
Their 'bad bitches to the front' policy at their shows harkens back to the days of riot grrrl, when Kathleen Hanna of Bikini Kill and others would invite girls to come closest to the stage. And I'm not going to lie – at their latest gig in Dublin, I felt like I could dance freer than ever before knowing that there wasn't potentially a creepy dude trying to grind up behind me.
The song 'Somebody' in particular is near and dear to the hearts of the members of Dream Wife, and the words in it will resonate with many women. The lyrics 'You were a cute girl standing backstage/It was bound to happen' echo sentiments we've heard far too often in the news. One line stands out because of its simple truth. It should be painted on banners, written on toilet walls, and passed in every covert classroom note: 'I am not my body/I am somebody'.
Chastity Belt – 'Cool Slut'
Sexists often toss around the word 'slut' to degrade women, while praising men who sleep with multiple partners. In fact, when a man is referred to as a slut, people often tack on 'man' in front of it because we so strongly relate the term to women.
Well, Chastity Belt, an all-female indie rock band from Walla Walla, Washington, is taking back the term, à la the LGBT community's reclamation of 'queer'. The music video for the song shows band members Julia Shapiro, Lydia Lund, Annie Truscott, and Gretchen Grimm doing everyday things that sluts do – drink wine with their friends, hang out in the park, play instruments. Doing the actual slutty part takes up only a fraction of our days.
So here's to sluts everywhere – let's sing along together: 'To all the girls in the world/Trying to take off their shirts/Ladies it's okay to be/It's okay to be slutty'.
The Tuts – 'Dump Your Boyfriend'
A self-described 'three-tone girl band', these women are the best thing you've never heard of. Nadia Javed, Beverley Ishmael, and Harriet Doveton are vegans, feminists, and yes, we would like to be their best friends.Their bubblegum pop-punk sound is sure to get you singing into your hairbrush or moving on the dance floor.
To be honest, it was hard just picking one girl power song by them because their music is so imbued with feminism. Both 'Tut Tut Tut' and 'What's On The Radio?' voice their frustrations as female artists often passed over in favour of their mediocre male counterparts. 'Dump Your Boyfriend' is an absolute choon though, because we all know that one friend who needs to ditch the guy holding her back.
Anna Wise – 'BitchSlut'
This R&B artist is well known for her collaborations with Kendrick Lamar, and we can't help but love her after hearing her song 'BitchSlut'.
The lyrics capture how as women we can never get it right in the eyes of certain people – we are either too friendly or too cold. What we wear, the simple fact that we're sitting alone – a**holes will use any excuse to say we were asking for it. And if we say no? Well, we're automatically labelled a frigid bitch, obviously. Wise's dulcet tones perfect convey this catch-22 every woman finds herself in at some point in her life.
Mommy Long Legs – 'Cat Callers'
Like I said before, it can be exhausting battling sexism day in and day out. The members of Mommy Long Legs have their own wonderful antidote for this: humour.
Lilly Morlock (vocal and guitar), Cory Budden (drums), Melissa Kagerer (vocals and guitar), and Leah Miller (vocals and bass) wear wigs while they play what they have hilariously dubbed 'barf-core/fart-core/vomit garage'.
In an interview with The Le Sigh, the band said of their music: "We are naturally silly people. That's why our music is funny. We also think that humour is a good way of addressing and coping with topics that are, a lot of times, hard to talk about… There is a feeling of reclamation, or power, in being able to turn a difficult situation into something humorous."
Indeed, 'Cat Callers' is about something serious – being yelled at on the street by creeps – but the band manages to poke fun at the topic while also not belittling the experience of the women being catcalled.
Princess Nokia – 'Tomboy'
Princess Nokia, a.k.a. Destiny Frasqueri, takes back her sexuality and flips the typical script of the male gaze in this powerful rap.
Frasqueri, who is of Afro-Puerto Rican and Taíno descent, spoke about the song with Djali of Mass Appeal, saying:
"Both of us being women (of colour), we understand the extent to which our image has been moulded by patriarchy—and colonialism, for that matter—forcing us to conform to archaic notions of 'beauty', and 'sex appeal' to please the male gaze. This song dismantles that entirely."
Bleached – 'Can You Deal?'
'Can You Deal?' asks the listener to not 'label or package me please'. It's a fitting message considering that Jennifer Clavin, who's on vocals, guitar, and synth in Bleached, compiled a zine with fellow female musicians (also called Can You Deal?) about how they'd like to be known for their talent and who they are, not simply for their gender.
Jennifer is joined by her sister Jessica Clavin on lead guitar and bass, with Micayla Grace also on bass and Nick Pillot on drums. In the zine, Jennifer recalls how she felt uncomfortable with society's expectations of what girls are supposed to be like, so she dressed up like a boy and went to punk shows. Even though she now enjoys expressing her feminine side, she still feels frustrated with how musicians who also happen to be women as well are treated by society.
As she says in Can You Deal?: "Labelling me as a woman puts me in a box and forces me to conform to gender roles. This ignores everything else I am."
Girli – 'Hot Mess'
Hmm, how to describe Girli? Brash, bold, and incredibly fun.
The 20-year-old London native perfectly captures the condescension women are often subjected to by cis straight guys in 'Hot Mess'. Whether it's about our knowledge or our looks, either way, it's annoying and belittling to be talked down to.
Girli always manages to get the upper hand, though, and changes the narrative by the end of the song so it is she instead who puts the puffed-up dude back in his place.
Bikini Kill – 'Rebel Girl'
We've got to include this classic! While the riot grrrl movement was by no means without its problems (intersectionality was not exactly its focus), Bikini Kill remains a watershed band in terms of female empowerment.
Kathleen Hanna (vocals), Tobi Vail (drums), Kathi Wilcox (bass), and Billy Karren (guitar) came together in the town of Olympia, Washington to start a revolution (or Revolution Girl Style Now! as their 1991 demo was called). They wanted to make feminism accessible in a time when people were saying the movement was dead, and they ended up giving hope to teenage girls everywhere who were fed up with the harassment they experienced in school, on the street, and at shows.
'Rebel Girl' loudly and proudly celebrates women who are unabashedly themselves. It's the ultimate lady love song, and a welcome battle cry in a society that so often pits women against each other. Why give in to tired narratives of jealousy when instead you can sing 'Rebel girl you are the queen of my world'?
Alien She – 'Death Sentence'
Katie O'Neill (vocals and guitar), Aoife McDonagh (bass and vocals), and Darragh McCabe (drums) are a trio of Irish artists who are brilliant on their own, but also shine in their genre-defying band Alien She. Their music proves both intelligent and expressive.
One notable example is 'Death Sentence', which is painfully honest in describing the issue of abortion in Ireland. 'People face this every day/Tell me what's it gonna take?' they sing in an angry plea.
As well, this track can be bought with a print or tote on their Bandcamp page to support the Goodbye 8 Campaign.