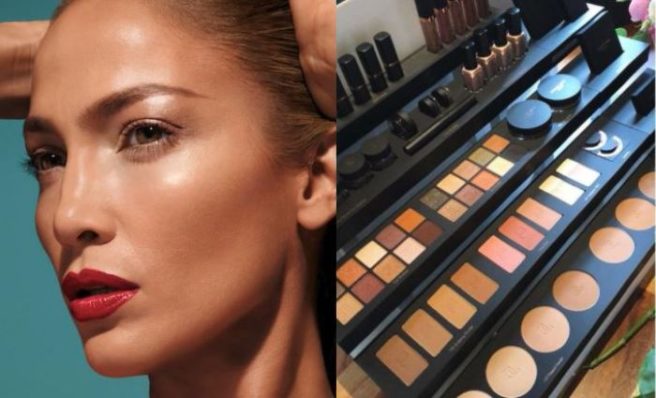 Ladies, I have wonderfully exciting news for you all!
Pop music sensation, JLO, has teamed up with the wonderful folks at Inglot to create a 70-piece makeup collection – and we're screaming.
Inglot Ireland stores across the country will be holding exclusive all day parties to celebrate the new JLO x INGLOT collection, which is landing in stores and online TOMORROW.
The 70-piece collection ranges from powders to lipsticks, shadows to eyelashes and cosmetic palettes and each store will have complimentary masterclasses at 1pm and 6pm to show guests how to use the products.
We had a sneak peak at the collection this afternoon – and it is OUTRAGEOUSLY gorgeous. Seriously.
You know the way JLO is renowned for her beautiful warm and glowy skin? Well this collection was created with that look in mind.
Prepare to get your glow on in a serious way.
All colours in the line were created and handpicked by Jennifer Lopez herself, with the star of the collection being the Freedom System palette that allows all you gorge ladies to create unique palettes with over 300,000 combination possibilities.
The expertly formulated products will range in shades from nude to glow, with a touch of smoky glam and the key products in the line will include an illuminator, a bronzer, a gloss and a mascara.
Director of Inglot Ireland (and all-round girlboss), Jane Swarbrigg said, 'Team Inglot Ireland is home today after the most incredible weekend in Las Vegas. We met the main woman herself, Jennifer Lopez, who discussed her new Inglot collection in detail and chatted about her inspiration for the collaboration. We are super excited to unveil the range to the Irish public this Thursday!'
You and I both, Jane.
The Inglot South Anne Street Pro Store will host an exclusive masterclass by award winning makeup artist Keilidh Cashell from 6pm to 8pm who will recreate two signature JLO looks that were showcased at the VIP masterclass in Las Vegas with Jennifer's makeup artist Scott Barnes.
Keilidh will show all guests how to achieve the signature JLO glow (yes please) and demonstrate an eye tutorial while giving an in-depth account of the new collection and tips from Scott himself.
FYI: tickets are limited and cost €20 and can be purchased by contacting Inglot South Anne street.
All stores will celebrate JLO with JLO music (say no more, tbh), balloons, party atmosphere and the first 25 customer will receive an exclusive Inglot shopper.
All customers who purchase the collection will be invited back in for a complimentary lesson and all customers of the collection will be entered into a competition to win a JLOxINGLOT hamper worth €150.