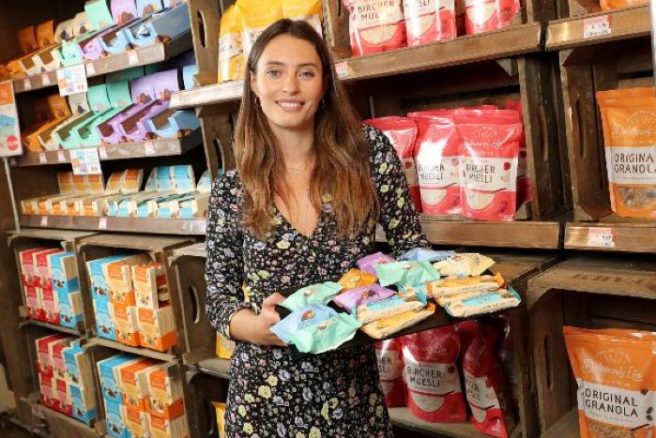 The term 'clean eating,' is now one that evokes both eye-rolling and a considerable amount of backlash online. Its devotees swear it's the key to a healthier lifestyle while its critics are quick to point out how unsafe it is to swear gospel to terminology that became a phenomenon on the back of many foodie bloggers and Instagram stories.
Blogger and author Ella Woodward, now Mills, AKA Deliciously Ella is one who knows how fast the tables can turn – she is regarded as the one who spearheaded this, despite never once using the term on any cookbook or product.
She has always affirmed that when it comes to eating healthy and eating well, it's about simple dishes that taste great – and more importantly that you enjoy eating. At the launch of her latest range of products – you'll find them stacked with plenty of healthy food options in SuperValu, she spoke to SHEmazing about self-care, her favourite dishes for a woman on-the-go and why doing this one thing is the key to successfully changing your diet.
Tell us a bit more about your latest range of products?
We've just launched our energy balls, oat bars, granola and muesli, which we're so excited about. They're all made with a few simple plant-based ingredients with a big focus on flavour. Each one is vegan-friendly and gluten-free.
So many hear the words Vegan or Gluten Free and think that the food will compromise on taste, what advice do you have for someone wanting to eat healthier but is afraid to take the plunge?
Start experimenting with your cooking, adding lots and lots of herbs and spices to everything you do – that's the key to veggie cooking. It's not about stripping things back and taking flavour away but celebrating flavour, texture and deliciousness. Try something like our five bean chilli; the Thai curries or a spread with a black rice, piquillo pepper and pistachio salad, roasted aubergine, tomato and pesto salad and sweet potatoes with spring onions, chilli and tahini.​
Many women on-the-go want to eat better and cut out the gluten or eat more plant-based foods but are fearful these type of meals will just eat into their time. Do you have any particular meals or foods that you like to prepare if you're in a hurry?
Stews, curries and dahls – they take just a few mins of prep time, they're so hearty and filling and they're brilliant for batch cooking and freezing. The recipes in the orange chapter of our new book, The Plant-Based Cookbook, are my go-to's when I'm busy. Each dish is full of warming, toasted spices; hearty veg, potatoes and beans; lots of creamy coconut milk and so much flavour. The Tuscan bean stew, cauliflower lentil dahl with dried apricots and the Thai curries are such winners in our house.
Tell us about your self-care routine – how important do you think it is to have one?
Looking after myself is really important, as we work 14-15 hours a day often seven days a week, so I need all the energy I can get! Yoga is a big part of this, I practice every morning before my day starts and it really helps me create a positive headspace – I absolutely love it, it's magic for my mental health.
If you're planning to kick-start a new diet change, what are your top tips?
For anything to be sustainable it has to be enjoyable, so find things you love and don't be too hard on yourself – go slow and steady and think about what you're adding in not just what you're taking out.