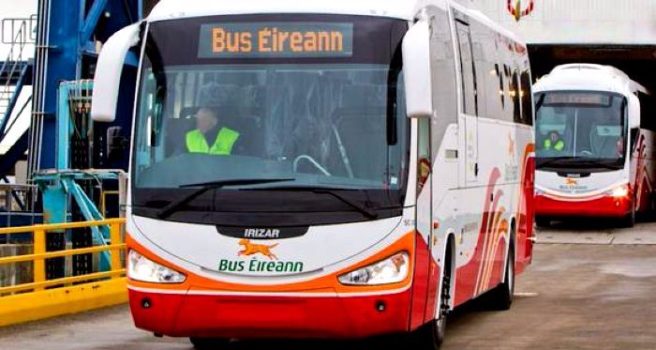 Commuter chaos ensued this morning when Dublin Bus, Irish Rail and Dart services were all disrupted by secondary strikes.
The only good thing to come of all this inconvenience?
Well, the Twitter banter of course.
Here's a few of our favourite tweets by commuters:
10. This one's a little rude, but we're sure some people shared this sentiment.
The mood around Dublin this morning #DublinBus pic.twitter.com/kBfwK9e9A8

— James Cooney (@coojay91) March 31, 2017
9. This is so true.
Today will go down in history as the day Irish people stopped saying "thank you" to the drivers every time we get off a bus #DublinBus

— Emmet Barone (@emmet_barone) March 31, 2017
8. The sass.
If only #DublinBus put in as much effort to give good service as they do with striking, people might actually support them.

— Meghann Gaffney (@meghannnG) March 31, 2017
7.The irony.
Dublin Bus are such good employers that workers can go on strike without notice #buseireannstrike #DublinBus #irishrail pic.twitter.com/Z5CtHC2Nmf

— Danny (@DFB_93) March 31, 2017
6. The Luas is the only service running today so YEAH!
Word of the #DublinBus strike reaches Luas HQ pic.twitter.com/qdetX1zl5o

— Mallow News (@MallowNews) March 31, 2017
5. You and me both, Shane.
#DublinBus had me throwing a Ronaldo strop pic.twitter.com/gh53Qm19N7

— Shane Foley (@kanyebear1) March 31, 2017
4. Hipsters doing it right.
Cycling into town past loads of office drones at bus stops while waving triumphantly from my unicycle #DublinBus

— The Dublin Hipster (@dubhip) March 31, 2017
3. Taxi drivers are going to be minted by the end of the day.
Taxi drivers this morning… #busstrike #dublinbus #buseirann pic.twitter.com/Ojy2BFj0xK

— joe stodge (@joestodge) March 31, 2017
2. An actual gif of everyone waiting at bus tops this morning for services that never came.
Reeling in the years footage of today will be similar to this…#DublinBus #irishrail pic.twitter.com/Xzn3YYlnKq

— Claire Kane (@itsclairekane) March 31, 2017
1. Some people are more angry with the Minister of Transport than the transport services.
Shane Ross' contribution any time there's a transport dispute #DublinBus #BusStrike pic.twitter.com/fhCAkGZd3J

— Karl Waters (@detlin808) March 31, 2017