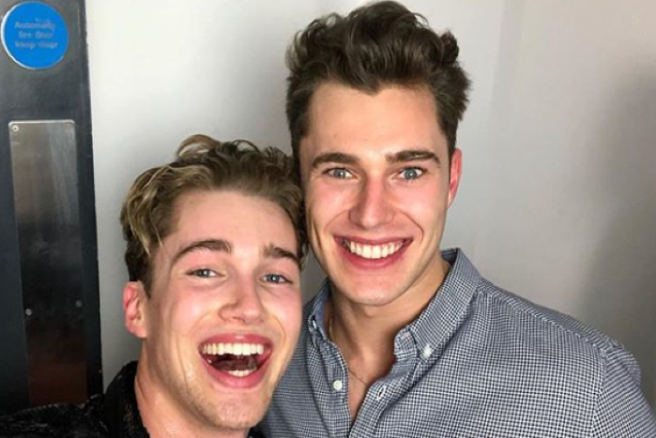 SHADE: AJ Pritchard slams Anna Vakili for calling Curtis a 'narcissist'
AJ Pritchard has jumped to his brother's defence after last night's explosive episode of Love Island, where Anna Vakili branded Curtis Pritchard a 'narcissist'.
The pharmacist blasted fellow islander Curtis after he told her boyfriend Jordan Hames to pull India Reynolds aside to confess his feelings for her behind Anna's back.
Professional dancer Curtis encouraged Jordan to act on his emotions, even though Hames had only asked Anna to be his girlfriend two days previously.
I didn't think I could find Greg anymore attractive than I already do but the way he subtly questioned Curtis. What a man #Upgrade #LoveIsland pic.twitter.com/sryXpbaFS2

—(@Mitamchild) July 25, 2019
Of course, the entire WORLD wondered what on earth Curtis was thinking when he gave Jordan that appalling advice.
Irish charmer Greg won the episode by asking him; "What was your thought process behind that?" The legend jumped out.
Anna was understandably raging at Curtis after she discovered what he'd done.
Maura was none too pleased with him when he couldn't tell her how he would act if he landed in the same situation as Jordan.
Maura: he's cheating
Curtis: yeah but he's brave to do it #LoveIsland pic.twitter.com/Pm9BJm1W0K

— Genevieve Nic Aoidh (@what_the_earth) July 24, 2019
Curtis even told Maura that Jordan was BRAVE to confess his feelings to India. Why does anyone go to him for advice, honestly? His behaviour with Amy alone should have sent up red flares.
28-year-old Anna fumed at Curtis for his advice to Jordan last night, saying: "I just don't know if you are a good person really, because good people don't move like that.
"You move like you're such a good person and you're not. A good person would never say to anybody to do that to their other half," she continued.
"Do you not care about me a little bit? I have been living with you for the past two months, you obviously don't care about me. You're a narcissist, that's my opinion of you." YES BISH.
Curtis gets away with so much shit. He literally condones all the boys trashy behaviour all whilst trying to play the perfect gent character. GET HIM OUT #loveisland

— jadee (@jvdesvocals) July 24, 2019
After hearing Anna's comments, Curtis' younger bother, Strictly Come Dancing star AJ Pritchard took to Twitter to leap to his defence.
The 24-year-old seemed to suggest that Anna did not truly understand the meaning of the word. He wrote: "Does Anna know the definition of narcissistic?
"Narcissist: Having or showing an excessive interest in or admiration of oneself and one's physical appearance. #loveisland @loveisland." Shadier than a palm tree.
Does Anna know the Definition of / narcissistic

Learn to pronounce
adjective
having or showing an excessive interest in or admiration of oneself and one's physical appearance. #loveisand @LoveIsland

— AJ Pritchard (@Aj11Ace) July 24, 2019
Maura Higgins also quizzed Curtis on the advice he gave out. saying; "So in this situation, if I was your girlfriend, you would do the same thing?"
"I don't know what I'd do in that situation," Curtis replied. "Oh wow," Maura said, as she gets up to walk away from him, adding: "That's great, that's great". The man needs to find the door.
What do you think, are you team Pritchard Bros or Team Anna/The Rest of the World?
Feature image: Instagram/@aj11ace