So, Nicole Scherzinger could be set to join The Black Eyed Peas
Earlier this week, Will.i.am confirmed what everyone already knew – Fergie is no longer a member of The Black Eyed Peas.
The rapper revealed that the trio now hope to collaborate with other 'good female' artists in the future, and they'll probably need to – because let's face it, Fergie was The Black Eyed Peas.
Speaking to Ahlan!, Will said, ''Since the beginning of The Black Eyed Peas, we've always had amazing vocalists that appeared on the mic with us.''
'People like Macy Gray, Esthero, Debi Nova, Fergie. On Elephunk, there were several females that appeared on that album. Obviously Fergie was the featured female..''
'But Black Eyed Peas are pushing it forward in terms of content, technology and experiences on our new project, Masters of the Sun.'
So, who could possibly replace the M.I.L.F.$ singer?
Well, reports have linked former Pussycat Doll, Nicole Scherzinger, to the role.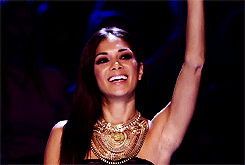 Will.I.Am confirmed in the interview that the X Factor judge does feature on their new project, but he added that he didn't "want to go into details [about] how she's involved yet".
Either way, we're excited about what the collaboration will have in store.