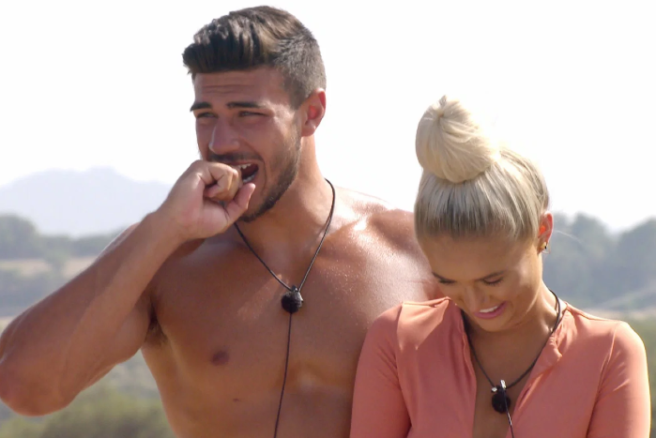 Love Island fans call on public to stop voting for Tommy and Molly
It's finally time for Love Island, the nation's latest addiction, to come to an end tonight.
Four couples are in the running to be announced as this year's winner; Tommy Fury and Molly Mae Hague, Greg O'Shea and Amber Gill, Curtis Pritchard and Maura Higgins and India Reynolds and Ovie Soko.
Tommy and Molly Mae are the favourites, seeing as they're the only official item in the villa and the producers seem to have chosen them for the crown long ago, but fans are calling for Greg and Amber to win the £50,000 cash prize instead.
Just want a quick chat with people voting for Tommy & Molly mae 🙂#LoveIsland pic.twitter.com/akYCjhLKIJ

— alitodd (@alisont0dd14) July 28, 2019
Viewers are convinced that Molly is playing a game and 'sabotaging' other couples, as well as possibly faking her feelings for Tommy.
Several audience members are creating a plan to ensure the vote goes the way of charming Irishman Greg and the only remaining original cast member; Amber.
Instead of dividing the vote by choosing Ovie Soko, one of the favourite and most hilarious contestants, Twitter users are telling fans to vote tactically by only choosing Greg and Amber.
Only acceptable winners #LoveIsland pic.twitter.com/FUk65Vgu4h

— (@barbklein245) July 28, 2019
Taking to Twitter, one viewer said:
"I will say this again. Do not divide the vote. Amber and Greg have more chance of winning. People only really like Ovie, but Amber and Greg as individuals are well liked. Vote for them, don't split the vote and let Tommy and Molly win."
Another added: "Right I know we love Ovie loads but we can't let the Ovie & India votes and the Greg & Amber votes split so that Tommy and Molly end up winning so we need to sacrifice our love of Ovie for the greater good."
anyways as much as we love ovie, he's literally carrying india on his back through the votes. she's likeable but not as likeable as greg THEREFORE the only acceptable vote was for amber & greg #loveisland pic.twitter.com/kc5hU6UOze

— amna (@mayonnaisefan) July 28, 2019
Another #Gramber fan said: "While one part of me wants Ovie and India in the final because it's Ovie the other part of me is worried because he and Amber have a mostly common fan base which will divide votes in the finals leading to Molly Mae and Tommy wining."
Anton and Belle were sadly dumped from the villa last night, and viewers were emotional as he whispered to Amber to "go and f*cking win it" as the last OG in the villa.
amber is the only original in the final. she's been heartbroken & humiliated, but she's been a bad ass strong woman every single time and come out stronger. she's let her walls down and learned about herself… and now she's found greg. VOTE FOR AMBER & GREG #loveisland pic.twitter.com/QwhoTDEF7C

— (@ambersgreg) July 28, 2019
Amber's been on a whirlwind journey in the villa, after demon Michael cruelly dumped her for Joanna Chimonides and then tried to get her back, in vain.
Greg has been nothing but lovely to her, just as she deserves, and the pair have won the hearts of the nation. We love a gal who knows her damn WORTH:
Think its absolutely adorable that Amber has no idea she's now a National Treasure #LoveIsland pic.twitter.com/mQrO8FDyCG

— Kenni Clarke (@Clarkee_KM) July 28, 2019
"Anton would have wanted Amber and Greg to win, lets not let his sacrifice be made in vain. Even if you think Ovie is attractive, vote Amber and Greg we can't let Molly win."
Scottish Twitter had better come thru for Gramber, but with Twitter looking this one sided towards the pair, how can they not snatch the prize?
Rumours of the show being fixed to suit Tommy and Molly Mae have been rife, so we'll have to wait and see what happens tonight.
Feature image: ITV/REX