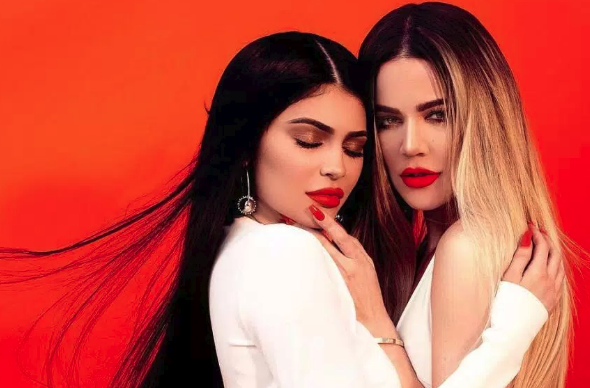 Kylie and Khloe made a MAJOR reference to rumoured pregnancies
There must be something in the water in Calabasas, because not one, not two, but three members of the Kardashian-Jenner clan are rumoured to be with child.
Kim is the only sister to have confirmed her pregnancy – the mum-of-two is expecting via surrogate early next year.
Kylie and Khloe are also rumoured to be incubating mini Kardashians, but neither of them have come forward to confirm or deny the gossip.
Kylie Jenner released a brand new YouTube video last night to showcase her new Koko Collection of lippies with her big sis.
The pair made a pretty intriguing joke about babies during the video, leading fans to believe it was a reference to their alleged pregnancies.
'We created them. It's our baby together,' Khloe says of the kits.
'We have eight,' she says, referring to the shades.
Ky and Khloe I SEE YOU joking about having a babies together in Kylies new vid

— Johnny Gurnett (@johnnygurnett) October 24, 2017
Kylie goes on to add laughingly: 'We have so many babies. Who knew?'
Khloé adds, 'Who knew? and the pair laugh and raise their perfectly shaped brows.
The comments section of the video is rife with speculation about the joke.
'Kylie Jenner is supposedly pregnant and makes a new liquid lipstick called Baby girl hmm interesting…. ??' mulled one.
'All i care about now is are you pregnant or nah,' said another.