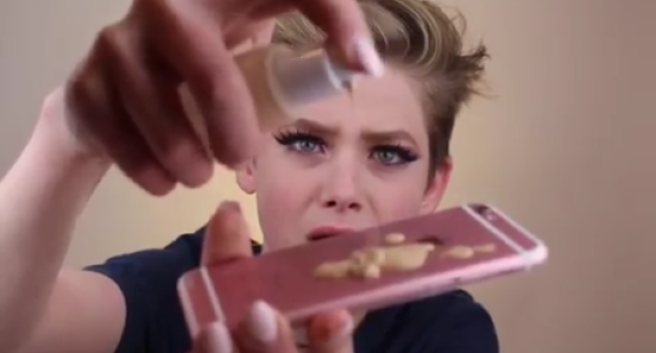 Instagram MUAs are using their iPhones to blend their foundation
There are always more than a few Instagram makeup trends doing the rounds online, but the latest one really takes the p***.
Teenage MUA Jake Warden has gained over 1.1million views on one particular makeup tutorial.
While the look he creates is pretty flawless, it's the use of his iPhone as a mixing palette for foundation that has people going crazy for the MUAs videos.
We'd barely toss our phones in our bags without a cover, never mind pour foundation all over them, so this beauty tutorial trend is pretty baffling to us.
In two separate tutorials, he squirts foundation onto the back of his rose gold iPhone, which doesn't have a case on it, and mixes highlighter into it using the iPhone rather than the back of his hand to mix the products together.
We thought this might just be a random, teenage makeup trend that would pass by without notice, but now other MUAs are following suit.
We shudder to think about the amount of germs that reside on the backs of our phones, so we seriously hope these MUAs are using a sterilisation wipe before dropping foundation oin their pricey smartphones.
Kids these days…