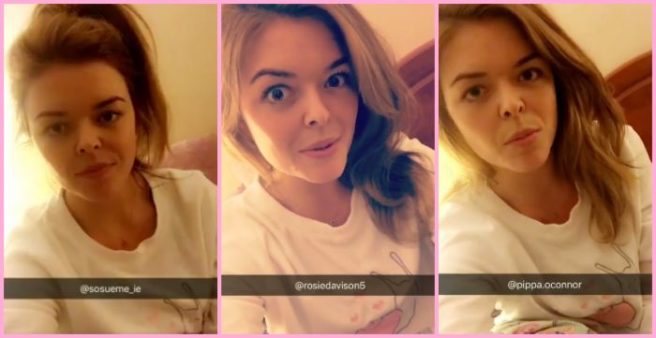 Doireann Garrihy's latest blogger impressions are completely GAS
There is nothing we love more than pouring over our favourite influncer's Snapchat story on the commute home, and each Irish influencer definitely has their own style and tone.
Doireann Garrihy has become a Snapchat star in her own right, after her original video of influencer impressions went viral five months ago.
Now, the Spin 103.8 radio host has posted her second part of the influencer installation, and we're seriously hoping it will become a series.
This time around, Doireann has included Roz Purcell, So Sue Me and Pippa O'Connor in her impressions.
The comedic genius has amassed thousands of followers thanks to her hilarious videos dedicated to some of Ireland's top personalities, and her impressions are uncanny.
The comic imitated the blogger's voices and accents perfectly, as well as mimicking their mannerisms and gestures.
In case you missed her first video, here it is;
Doireann is also one of our amazing judges on our panel for the SHEmazing! Awards, a panel that is made up of some of the biggest and brightest stars from the media world, the food, fashion, beauty and fitness industries and, of course, the blogosphere.
So, while we have you; don't forget to have your say in the inaugural SHEmazing Awards this May! It's time to vote, and you can do it right here!