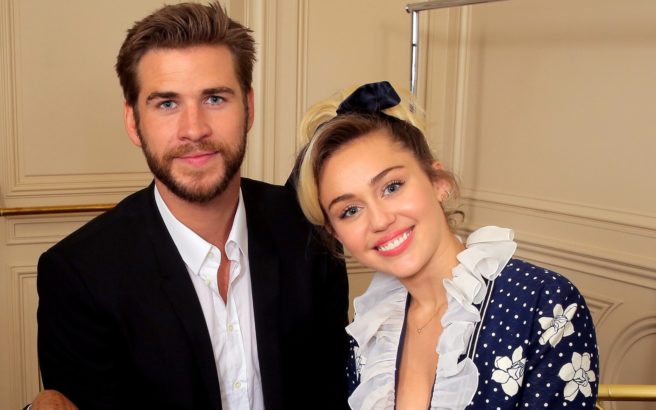 COMMENT: Miley and Liam are a real modern love-story we celebrate
Miley Cyrus and Liam Hemsworth are currently living love's young dream, posting sweet pictures on Instagram and just generally enjoying their lives together with their dogs and their eclectic fashion choices.
Their romance has constantly been dogged by rumours and negativity, mostly stemming from Miley's ever evolving image.
The pair became loved up on the set of The Last Song when Miley was still a long, brunette-tressed country songstress who had barely ever uttered a controversial word.
While their love may have seemed manufactured at the time (a possible plug for their romantic drama soon to hit cinemas) their romance stood the test of time and seemed to be one of the most real, supportive relationships in Hollywood.
At the time, Miley was still a wholesome, cowboy boot-wearing 17-year-old who had freshly graduated from the Disney Channel conveyer belt of interchangeable young female stars.
However, if the vehemence of the fans was anything to go by, there was something different about Miley, and her "smiler" fans, draped in Breakout merch and boho stylings, consumed everything the teenage country icon put forward.
Her wholesome image was a huge part of her stardom; "For Miley Cyrus to be a 'good girl' is now a business decision for her. Parents have invested in her a godliness. If she violates that trust, she won't get it back," Gary Marsh, the president of entertainment for Disney Channel Worldwide at the time, was quoted saying.
Her relationship with Liam was big news, and the couple enjoyed a few years of support and positivity as they got engaged, rocked red carpets in tuxes and glitzy gowns, and generally prescribed to the traditional mould of an all star Hollywood couple.
The star's image began to change around 2010, starting with a few racy leaked pictures and culminating in her infamous 2012 hair cut, when she chopped off her flowing locks in favour of a liberating, bleached blonde crop.
The new hair do attracted endless hate, and fans even questioned how Liam could stand to stay with the star, who was apparently now so different to the girl he had fallen in love with.
Because a free personality transplant comes with a new hair do. Definitely an acceptable reason to be dumped by your partner.
As her image became edgier, criticism was heaped upon her as fans were outraged and requested the return of their "old Miley."
Countless Twitter, Tumblr and Instagram accounts have been set up in homage to the songstresses old look, with "RIP Miley Cyrus" in many of the bios.
The scrutiny came to a head at the 2013 VMAs, when Miley put on a performance that will go down in history as truly iconic (admittedly in a Britney-Spears-with-that-umbrella way).
I miss the old Miley and I'm not sorry

I MISS THE OLD MILEY

— 24K Porta (@portayolo) January 12, 2017
The star shocked the world by donning a set of nude, latex underwear while twerking on Blurred Lines singer Robin Thick and sticking out her tongue in a rather bizarre fashion.
The tongue became her trademark, and her performaces of her (then) new album Bangerz became more and more outlandish.
Gone were the grunge stylings she had adopted, and in their place came space buns, oversized basketball jerseys, hot pants, weed earrings and glitter. Lots and lots of glitter.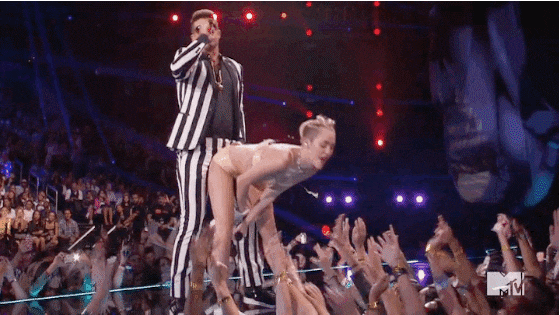 After so many years together, the couple sadly split around this time, but both admitted that they still loved each other.
"I love Liam and Liam loves me but it's about finding yourself, and sometimes you have to separate yourself from everyone," Miley told Australia's Sunday Night at the time.
Miley took the break up in her stride, creating her charity organisation The Happy Hippie Foundation, a culmination of all of the causes Miley has become so vocal about, homelessness, LGBTQ rights, women's rights, animal welfare, social justice and mental health, while Liam focused on filming The Hunger Games.
"You fall in love with who you fall in love with, you can never choose. I guess some people just come with a little more baggage," Liam said at the time.
The couple, to everyone's surprise, rekindled their relationship in late 2015, despite the constant scrutiny heaped on them between Miley's now controversial image and Liam's alleged past cheating.
They now seem to reside in a whimsical world full of yoga, facial stickers, onesies and mutual love and appreciation for one another.
Despite the drama surrounding them, they prove that sometimes taking a break is the best thing, and if it's meant to be, you will find each other again in the future (a cliche which in this case, actually worked out).
Miley and Liam are simply a couple who prove that people change, but if you really love someone, well then sometimes that just doesn't matter.