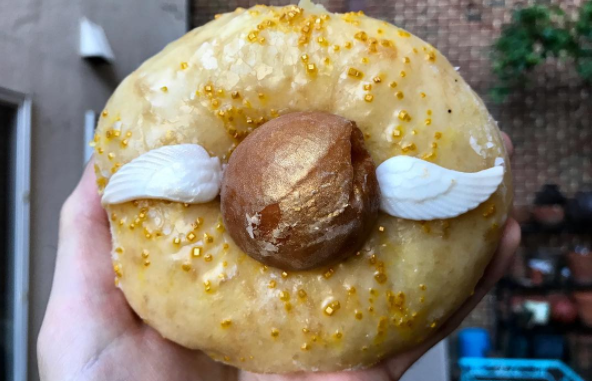 Butterbeer doughnuts are here and they're as magical as you'd expect
Forget pumpkin spice, butterbeer is the real flavour of the autumn season.
Harry Potter fans will be familiar with the iconic drink which is hugely popular in the world of witchcraft and wizardy, and now, it's finally time for us muggles to get in on the action.
Sugar Shack Donuts, a US based bake shop, have created the ultimate Harry Potter-inspired treat in the form of the butterbeer doughnut – and honestly, we're drooling already.
Complete with a shimmery glaze, sparkling sprinkles and gold stars, these little pieces of heaven are every bit as magical as you'd expect.
Oh, and did we mention every doughnut is topped with its very own golden snitch?
But alas, these beauts are currently only available in Alexandria, Virginia, and Washington, D.C., so unless your willing to zip across the Atlantic on your Nimbus 2000, you'll have to admire them from afar for now.
Or, if you fancy getting creative in the kitchen, you could always try to conjur up your own magical creation.
We reckon they'd go down a treat at any Halloween party!