Too much? Courtney Stodden looks like she's had ANOTHER boob job
She captured everyone's attention when, at the age of 16, she married 51-year-old Hollywood actor Doug Hutchison in an intimate ceremony in Las Vegas.
Now aged 20 – and still with Doug despite several temporary splits along the way – Courtney Stodden has overhauled her appearance.
Once an aspiring pop-star, she has more recently stated that she believes acting is where her talents lie – and certainly her Instagram account proves she is a huge fan of Marilyn Monroe's style and appearance.
However, while Marilyn was curvy, Courtney's breasts are entirely OTT. In fact, they appeared bigger than ever in one post made – and then swiftly deleted – earlier this week.
Wearing a light chiffon shirt and pouting for the camera while holding a pink smoothie, Ms Stodden's chest seems disproportionately large; something which wasn't lost on commentators who spotted the snap before it was removed.
Shortly after her marriage, the reality TV contestant denied that she'd had plastic surgery – insisting that she was entirely natural. However, two years ago at the age of 18 she decided on a breast augmentation to further boost her bust.
Eventually opting for a DD cup – a significant increase given her petite height (she's 5ft 4in) and slight frame – her husband fully supported her decision.
However, if her recent Instagram posts are anything to go by and she has indeed gone under the knife again, this time seemingly choosing an even larger cup size.
TMZ reported earlier this year that the young woman was shopping a sex tape to the highest bidder.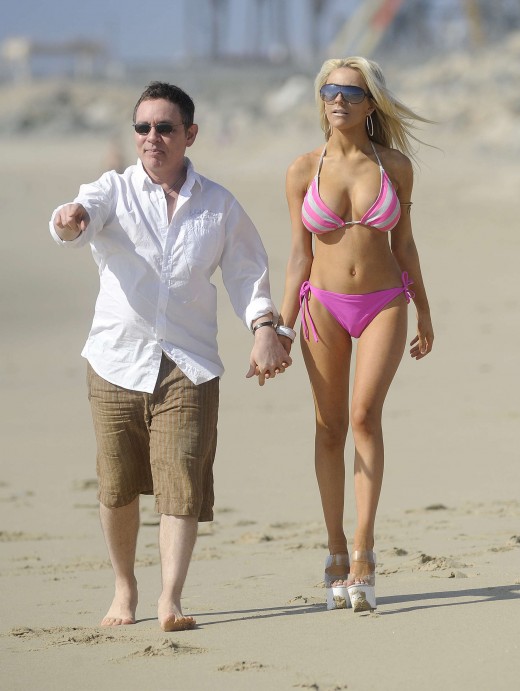 Described as a "solo effort porn video," in it Ms Stodden can be seen in a bubble bath splashing in water.
Mr Hutchinson does not appear in the footage, which was eventually released on several adult entertainment sites.
She and her husband split after just two years of marriage, with Courtney reporting that she wanted to "experience other men," but they reconciled last year and have said that they plan to renew their vows shortly.