Even A-listers can get starstruck, it seems.
Oscar winner Anne Hathaway couldn't contain her excitement on Monday night when music legend Mariah Carey showed up at the same event as her.
The event in question was the premiere of Anne's new movie, The Intern, which opens in Ireland on Friday September 25.
Realising that the singer was right behind her on the red carpet, Anne stopped mid-interview to have a mini freak-out.
"She's here, she's at MY movie premiere… like she's two arm lengths away right now," she tells a reporter in the video above.
And like most of us when we get starstruck, the flustered actress could barely string a sentence together.
""It's just . . . the best glamorous ever," she gushes, before adding. "That's not even a sentence, there's no grammar there."
While the reporter tries to move on with other questions, Anne gets even more excited as the distance between her and Mariah decreases.
"She's like, an arm length away… I just love that this is on camera right now, is she in the background?!"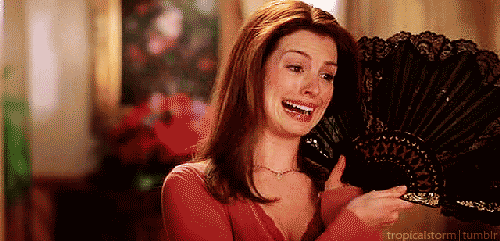 Anne's The Intern co-star Robert DeNiro had his own interview freak-out this week, but for a very different reason. He stormed out of a Radio Times interview after objecting to the interviewer's "negative inference" in the questions and refusing to speak to her any longer.
The pair star together in the new comedy-drama, which sees a 70-year-old widower Ben Whittaker (De Niro) taking on the role of 'senior intern' at an online fashion site run by the much younger Jules Ostin (Hathaway).