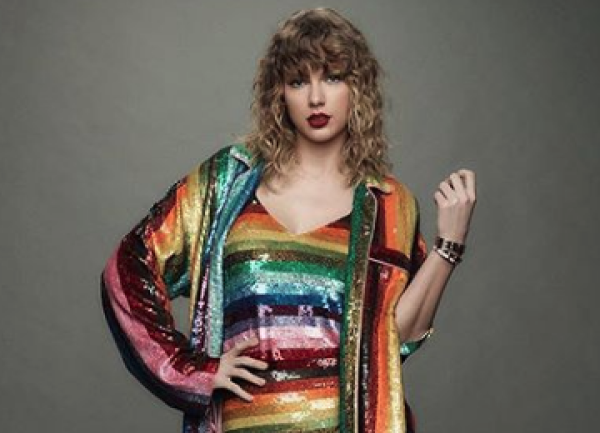 Taylor Swift is an undeniable icon – and her Reputation comeback this year, alongside her sold-out worldwide tour, proves that she truly is the feminist phoenix of the music industry.
Her commitment to female empowerment, clever video concepts and iconic style moments make her incredibly unique, and we can't think of anyone we would rather emulate this Halloween.
Here are six Swiftie costume ideas to slither into the Halloween spirit in style:
Reputation reptile 
Take the Look What You Made Me Do theme of snakes to a whole new level. Copy Taylor's Reputation Tour performance look with a snakeskin, long-sleeved bodysuit (here's one from Amazon, but you can find them on ASOS and Missguided, or on the highstreet in Zara and H&M) and team it with fishnet tights and knee-high boots.
Once you have your outfit down, do your makeup just like Taylor, complete with red lip and liquid liner, before grabbing another pair of fishnets, stretching them over your face, and using green shimmery eyeshadow to add a snake-scale pattern to your temples, down your cheek bones and chin.
Finish with lots of highlighter and a microphone.
22 (and BOO)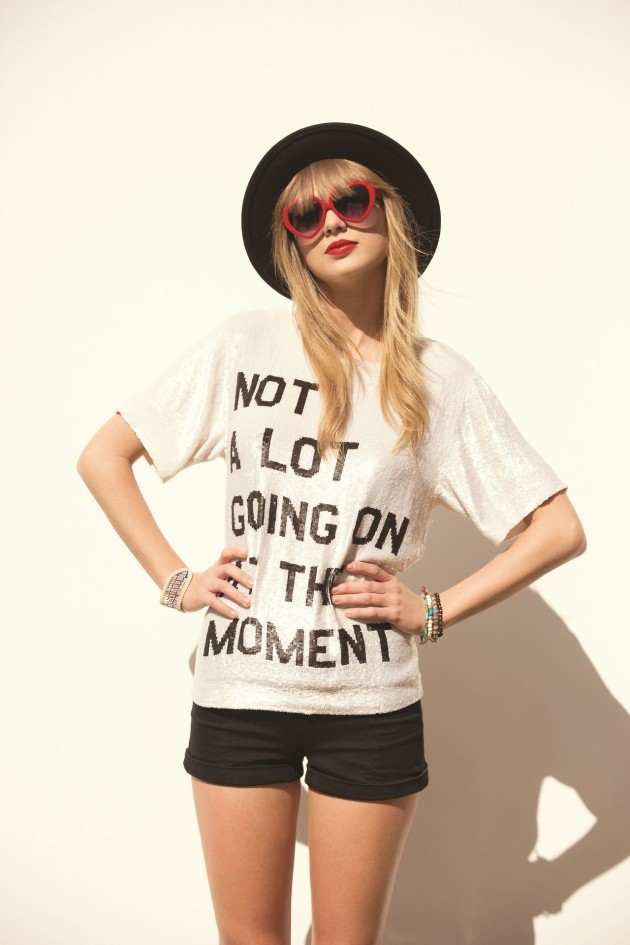 This is one of those Halloween costumes that you probably have most of the elements of already.
All you need is a black hat, black shorts and a plain white t-shirt. Duct tape on the 'Not A Lot Going On' slogan, or write it on the t-shirt with a marker.
You might have to get online to order those red, heart shaped sunglasses, but other that that, this costume is probably already in your wardrobe. Bonus points on this one if you're actually 22 and just want to go around shouting that all night.
VM-Tay 
Taylor Swift has had a serious ascent to stardom, but one incident that will go down in pop culture history has got to be the events of the 2009 MTV Video Music Awards, when Kanye West notoriously stormed the stage after Taylor's win for Best Female Music Video.
Taylor proved that she is graceful to her core after she reacted bravely and with dignity on stage to Kanye's interruption, as he claimed that Beyonce would have been more deserving of the win in the middle of Taylor's acceptance speech.
For this costume, a silver sequin sheath draped into a Grecian-style gown will suffice, and you can pick up a length of sequin fabric at your local haberdashery. The most difficult aspect of this to replicate would be the Moonman award, but a sliver spray-painted action figure should suffice – it's such a notorious moment that the reference won't be lost on anyone.
OG Junior Jewels Tay
While we may have left this Taylor behind in music video history, Love Story will always be a firm fan fave.
This is arguably one of the easiest Taylor looks to recreate. All you need are flannel PJ bottoms, a white t-shirt, some markers, and plastic hipster glasses.
Copy the pattern on the neck and sleeve hems of Tay's t-shirt, and then become the life of the Halloween party by getting all of your friends to sign it. In the original video, Taylor's Junior Jewels t-shirt had lots of different names, but in the video for Look What You Made Me Do, it featured the names of her friends, like Selena Gomez, Lena Dunham and Gigi Hadid.  Bonus points for this costume, as you get to venture out in the comfort of your pyjamas.
The Bad Blood Squad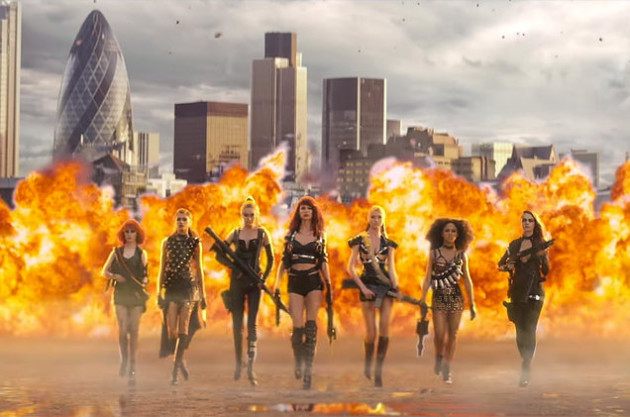 This is one for you and your girl gang – Taylor's Bad Blood music video is one of her best, and it cemented the iconic nature of her squad. The video goes a little something like this: Double-crossed by her partner Arsyn, played by Selena Gomez, assassin Catastrophe (Tay-tay) enlists a troupe of fierce females to seek her revenge.
Simply deck yourselves out in different styles of black clothing, from leather skirts to ripped leggings, black crop tops and bralettes and stompy boots.
Then, add as many belts as you can pool together, and some plastic weapons for good measure. Finish off the look with intense cat-eye liner al la Taylor and your bad ass, boss babe squad look is complete.
The Blank Space, baby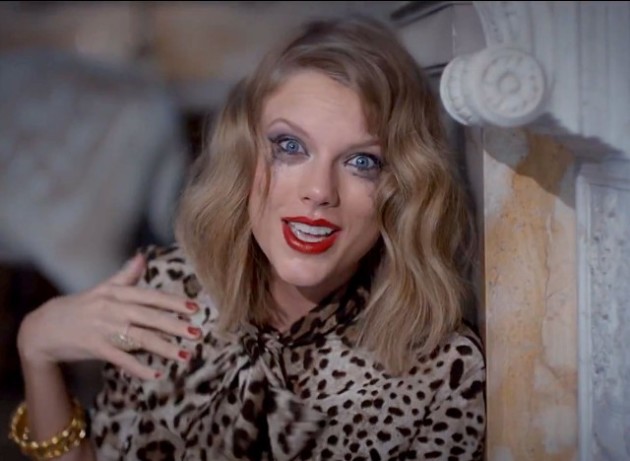 One of the most memorable moments from Taylor's hit Blank Space (other than her smashing up that car with a golf club and dropping her lover's phone in a fountain) is the very deranged looking Taylor writhing in front of a fireplace.
Taylor's video pays homage to toxic, damaged relationships, and she epitomises the trope of a crazy girlfriend as she punches the walls in a leopard print dress, black makeup streaming down her face.
Luckily, leopard print is a popular pattern on the high street at the moment, so you should be able to pick up a leopard gúna for a steal. Then, simply add some smudged eyeliner down your cheeks, a red lip, and you're done.