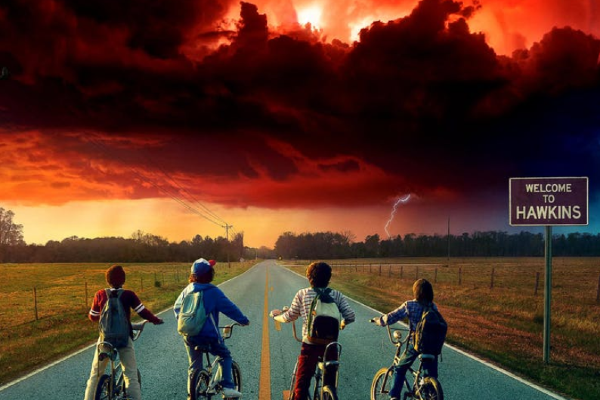 It's nearly impossible to imagine one of the best shows of the last few years killing off two of its beloved main characters, but the Duffer Brothers are no ordinary show-runners.
They have recently revealed that during their initial planning process, they decided that Steve and Eleven would be killed off during season one.
NOT BABYSITTER STEVE. Please, we beg. Or Eleven, she's our new badass feminist hero, if only we were that cool at 14.
The hit Netflix series just wouldn't be the same without it's leading protagonist Eleven (Millie Bobby Brown) and the lovable babysitter Steve Harrington (Joe Keery).
Over the course of two (soon to be three!) seasons, these characters have become both deeply integral to the show while also becoming massive fan favourites – which begs the question, why would they have ever been killed off in the first place?
In a brand new behind-the-scenes companion book Stranger Things: Worlds Turned Upside Down, Matt and Ross Duffer have let slip that both Eleven and Steve weren't originally meant to survive, because Eleven was allegedly going to sacrifice herself to save the others.
"Eleven was going to sacrifice herself to save the day. That was always the end game." The proposed deaths would have been a huge transformation to the storylines of the show's future.
It soon became crystal clear to the Duffers that Stranger Things would return for season two, which changed everything.
"We needed to leave it more up in the air, because deep down we knew the show just wouldn't really work without Eleven. And at that point, we knew how special Millie Bobby Brown was. If there was going to be more Stranger Things, Eleven had to come back."
Millie Bobby Brown has emerged from the show as one of the most prominent talents of generation, and has showed maturity far beyond her age. She even shaved her head for her audition for the role of Eleven to show her commitment to the role. A true Kween.
Steve Harrington was kept alive by the Duffer brothers mostly because the fans absolutely adored him; his character arc from Nancy's obnoxious boyfriend to lovable and selfless babysitter to the pack of alien-fighting kids gripped the audience.
It was thanks to actor Joe Keery's portrayal of local Hawkins heartthrob that also contributed to the script change: "This Steve character, he was just supposed to be this giant douchebag," Ross revealed.
Why the Duffer Brothers decided to make Steve Harrington TV's best babysitter on @Stranger_Things. pic.twitter.com/JVlZVh5ULX

— Vulture (@vulture) November 20, 2017
The Duffers also revealed that Bob Newby (Sean Astin) was always intended to die, but he originally was planned be killed off a lot earlier in the series. "Sean Astin proved so likeable that Bob's death got pushed from episode four to episode eight because we kept wanting to keep him alive," he explained.
"It was important to us and also to Sean to give him a bit of a hero's death. We wanted him to accomplish something meaningful."
Judging by the trailer for season three, Eleven and Steve will be more essential to the show than ever before.
The creators have claimed that the newest season is based centrally in Hawkins mall, and takes it's primary inspiration from The Thing:
Ahoy! Something is coming… to Hawkins, Indiana! pic.twitter.com/BI4wFRVzvB

— Stranger Things (@Stranger_Things) July 16, 2018
"While it's our most fun season, it also turns out to be our grossest season," Ross Duffer teases. "We're inspired by John Carpenter's The Thing. We're inspired by Cronenberg.
"We have a little bit of a George Romero vibe in there as well. There are horror movies and horror masters that we haven't really paid tribute to as much in previous seasons that we are definitely going to get into this season."
Season three of the fan favourite show is premiering in summer 2019 on Netflix. We're counting down the days, people.