Anyone who has attended a wedding in the last few years is probably aware of the huge surge in couples embracing the 'nostalgia' trend on their wedding day. From candy stations (think 10 penny bags), crisp sambos after a couple of hours on the dance floor and the use of photos in quirky and fun ways, it looks like this trend isn't going anywhere. Photos are a great way to introduce a personal touch so we've come up with some creative ways that you can use your Fujifilm INSTAX camera on your Big Day.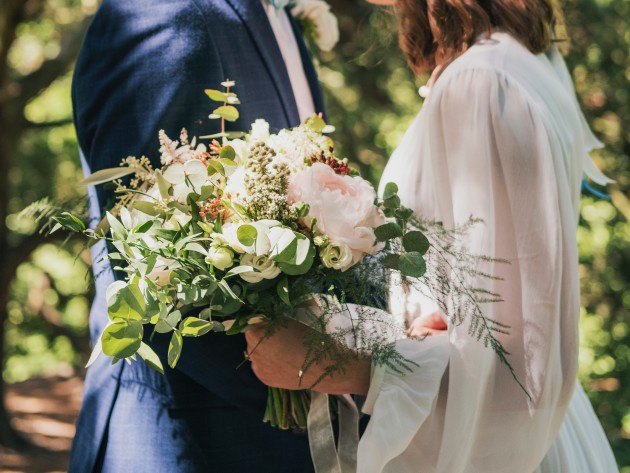 Decorate the venue… with pictures of you and your other half
What better way to display your love and affection for your new spouse than to show your guests some gorgeous INSTAX snaps of the two of you? Have someone take them alongside your wedding photos before your guests arrive at the venue. Or you could begin taking them on the run up to the big day, in places that mean the world to you both, such as where you had your first date. You might choose to nestle your photos amongst some flowers as a table centrepiece. You could also use them as an inexpensive alternative to cake toppers.
Individualise your seating chart
INSTAX offers some perfect ways to spruce up a plain old seating chart. Try hanging your guest's names along a peg line, in order of where they are seated. Then, tell everyone to replace their name tags with a sweet INSTAX snap. Alternatively, take some candid INSTAX photos of your guests at a pre-wedding celebration or engagement party. Then, use the images on a chart to brightly display who is sitting where as they enter the venue. If your bride squad is feeling extra helpful, they could even stick the photos on clips and lay them on tables as personalised place cards.
Get candid at the table
Posed and planned photos are lovely but the best wedding memories will be of you and your guests having the craic. Pass around your INSTAX to your guests during the speeches or meal and ask them to take as many candid photos as they want, and to leave them in a designated spot. Then, have your bride squad on hand to gather these memories to make a photo board to display them, or save them for your unofficial wedding album.
Make a classy selfie booth- INSTAX style
Gather some classic photo-booth props such as hats, masks, boas and novelty glasses. Then set up a table in your venue, displaying the props. Bring a floor length mirror from home- borrow one- and let your guests take some well-earned selfies as the night progresses. Have a pin-board at the ready to display them. These will definitely make for some hilarious memories in years to come.
Let the little ones entertain themselves
Having a kid-friendly wedding is brilliant- but its also a whole other ball game. You can ensure at least an hour of peace from the kids table, if you set up some activities for them to do while the grown-ups make memories. One fab way is to let them take some INSTAX photos and decorate them. Gather some simple arts and crafts like markers, glue and colourful cardboard to mount their photos on and let them go wild.
Let your guests be their own party favour
Each guest will feel individually appreciated when they receive a personalised thank you note after the wedding. This is easy when you have an INSTAX snap of each guest or each couple from the big night. Gather the photos you accumulated in the different ways outlined above and use them as individualised party favours so that your guest will always have a memory of your special day.
You or someone you know will have so much fun using INSTAX on their wedding day- and end up with some beautiful memories to show for it. Try the INSTAX Mini 9 Wedding Gift Set, a gorgeous gift set that is perfect for encouraging wedding guests to participate in the festivities. You could also opt for the INSTAX Wide 300 Wedding Gift Set, making sure all your guests fit in the picture. It has film twice as wide as the Mini and an accompanying close-up lens which expands the range of photo shooting. To capture your big day perfectly, visit INSTAX today.