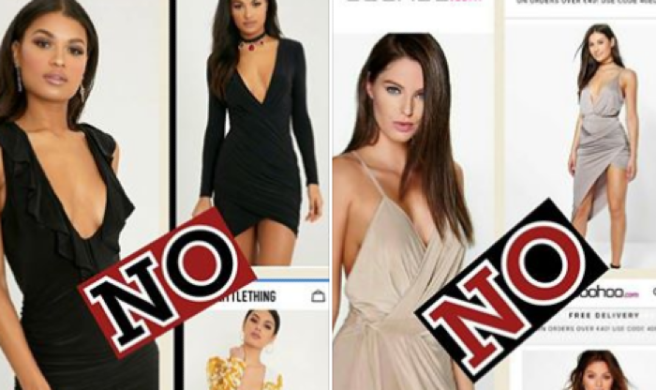 One teenage disco in Kilkenny has been getting a lot of heat this week, since they posted a decree to Facebook telling girls that they were not welcome at the disco if they chose to wear "deplorable dresses."
The Fusion Ball is a long-standing teenage event in Kilkenny town, and the popular venue has recently banned short dresses and cleavage after "too many broke the rules," and said that all they want is for "girls to be discreet."
They completed the Facebook post with screen grabs of popular dress styles from online stores, using the garments as examples of what will "NOT be accepted" on the night.
However, it was the comment section which caught our eye, as people responded in the best possible ways to the dress code.
Most commentators weren't happy with the attempt to police their wardrobe choices, and responded to that effect.
"What does discreet even mean in clothing? No shape? No outline? No indication of female anatomy or boobs? What are you even asking for… just say knee length if you want a dress code that makes some sense," said one.
Here's a few more of our favourite responses:
1. "I've ordered this instead do you think its ok?"
2. "If the dress is just like these I'd say you'll be grand Aoife."
3. "Good thing lads can still wear what they want, I'll be showing plenty of thigh."
4. "Anyone looking for a ball dress? Pm me for details xx"
5. More outfit ideas that fit the description.
However, some people agree with the discretion clause, and feel that the venue is doing the right thing by encouraging girls to be modest.
"Glad to see that an event cares enough to speak out and make known that class and dress code still exists. Standards need to be set and maintained," said one.
"There's a difference when you're a teenager showing amounts of skin an escort wouldn't show. It's just about teaching class and self respect to show girls they don't need to expose themselves to look pretty and have fun," said another.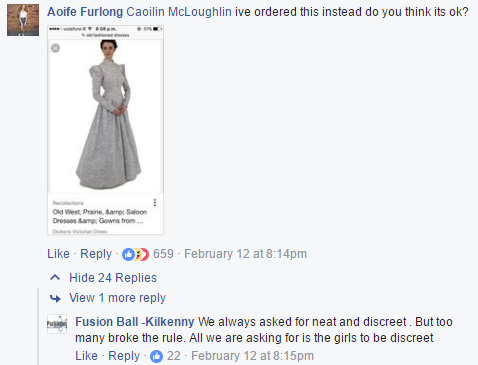 However, the majority of the comments were negative.
"I personally think this is very sexist against women to freely wear what they please what they feel comfortable in! This is 2017 not the 1950s women are not sexual objects you can't treat us like that by telling us what to hide because your uncomfortable seeing us wearing a dress that shows skin!" said another young woman.