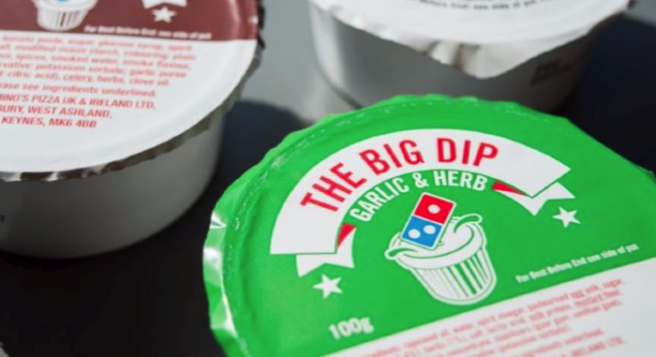 Greatness from Dominooo's.
Yes, it's theme tune is stuck in our heads right now, but let's be honest with ourselves, we all love a feast from Domino's every now and again.
The pizza chain suits us perfectly on hangover days, sick days and as cheat meals, however, its latest revelation has people freaking TF out.
Shocking that @Dominos_UK Garlic & Herb dip contains a massive 675 calories – more than two @McDonalds cheeseburgers!

— Ciarán (@FarrenCiaran) May 24, 2017
Still can't get over the fact that the dominos garlic and herb and dip is 700 Calories

— lottie X (@lottieheaneyX) May 24, 2017
It turns out the Domino's Garlic and Herb dip (the family size version) contains 675 calories.
Yes, we know it's the equivalent of two McDonald's cheeseburgers, but we don't order Domino's to be healthy, do we?
Plus it's family size, and meant to be shared (but we can admit that we gobble it all up by ourselves sometimes).
Domino's told The Sun: "Our Garlic & Herb Big Dip is great for sharing with family and friends, and we recommend each party size should serve at least four people. Single size pots are also available at 169 cals each.
"We're committed to providing transparent nutritional information on our website and via our app, to enable customers to make informed decisions."
We'll be honest, we're not too bothered by this news… we might even order a Domino's tonight.