When Kirsten Dunst was a teenager, her role in Bring It On pretty much made her a household name.
In fact, some people still recognise her more for that role then many of her more recent projects. Which we can't exactly blame them for, because there were some fantastic lines in that epic cheerleading tale.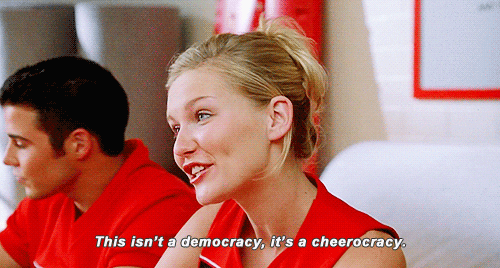 Like many other actresses enjoying their time in the spotlight, Kirsten was asked to be on the cover of a popular magazine. Remember when 18-year-old Kirsten Dunst appeared in Maxim magazine topless bar a denim jacket?
Well she certainly does, and apparently not with fond memories.
In an interview with Stylist, Kirsten said she felt forced to do the photo shoot with less clothes than she was ever comfortable wearing.
She then followed up by admitting that she was "bullied" into that particular cover shoot —in order to promote the release of Bring It On.
"I was too young, I didn't like it," she added, "Not good. But then I got a whole new team of people!"
That's the kind of experience that gives us the super creepy feelings.
Kirsten, who is doing press to promote her role in the series Fargo, said that at the time she didn't feel confident enough or understand how to say "no" to the shoot.
On a lighter note, she revealed that she is still pretty close with her former co-star Tom Cruise:
"He sends me cake every Christmas. I call it the Cruise Cake," Dunst added. "It's so good—a coconut cake with white chocolate chips. It gets eaten within a day in my house.
When the Cruise Cake gets delivered, it's like, 'Cruise Cake's here!' My friends know what that means."