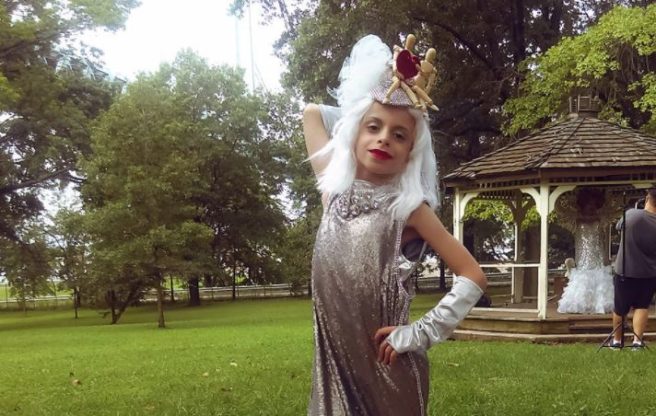 A 10-year-old boy in the US is making headlines after setting up the first ever drag club specifically for children.
Desmond Napoles, a self-professed 'drag kid' from New York, says he wants to create a "positive and safe place" for kids who wish to express themselves through the art of drag and hopes to spread the message that it's OK to "just be yourself."
According to The Independent, Desmond realised he was gay at a very young age.
As a toddler, he would wrap long towels around his head and strut around the house in high heels belonging to his mother Wendylou.
Speaking to Out, Wendylou explained how her son's obsession with feminine clothing led her to believe he may have been transgender.
"When we was younger, we thought that maybe he was trans because of his strong preference for girls' toys and wearing girls' clothes," she said.
Desmond has made quite a name for himself in the LGBTQ community, and has become somewhat of an icon ever since he wowed the crowds in a flamboyant rainbow dress at the NYC Pride Parade in 2015.
Now with over 15,000 Instagram followers, his work is inspiring people all over the world.
"We get messages from people, like in Colombia, saying, 'We're not allowed to be outwardly [in] drag or gay and it means a lot to see somebody that is'," Wendylou told Out.
Determined to put his growing social media presence to good use, Desmond created 'Haus of Amazing' – a safe haven for the LGBTQ kids of New York city.
"People should be able to be free and let themselves express how they want, whenever they want," he said.
"Let them be [his or herself], and if you don't like how people are, you don't like yourself."
The club has received a hugely positive response online with many Instagram users showing their support for the cause.
"Keep it going darling. You are truly amazing," wrote one follower.
While another said: "Just discovered you recently but already so proud of you and i can't wait to see what's in store for you in the future xo."
Feature Image: Twitter