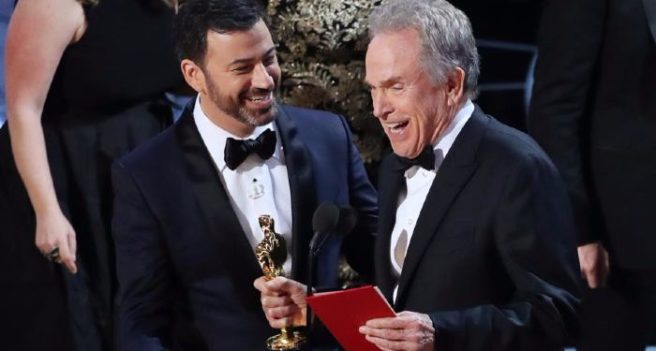 We've probably watched the disastrous (yet, hilarious) ending of the Oscars about seven times already today, and it just keeps getting more and more cringey.
Everything descended into chaos when La La Land was announced as the winner, when actually, Moonlight nabbed the golden man for Best Picture.
And, while we're all just laughing it off as another award show blunder, it's actually just about as bad as it can get for the Academy.
The full video of the #Oscars massacre. I felt bad for everyone. #MoonlightGate #Envelopegate
pic.twitter.com/vZlle3pU49

— XO (@IamHR2512) February 27, 2017
The biggest award of the biggest award ceremony turned out to be an absolute mess… and now people are getting in trouble for it.
The Price Waterhouse Coopers auditors are primarily responsible for the mishap, after previously boasting about their 83-year history with the Academy.
PWC are in crisis meetings today because it was their responsibility to guard the envelopes and hand the correct one to the presenters just before they go on stage.
However, their mistake last night is already leading people to doubt them, with calls being made for PWC to be removed from future ceremonies.
Oh dear @PwC. 80 years of looking after #Oscars envelopes. Time for an audit rotation?

— James Ashton (@mrjamesashton) February 27, 2017
The company made a statement late last night, saying: "We sincerely apologise to Moonlight, La La Land, Warren Beatty, Faye Dunaway, and Oscar viewers for the error that was made during the award announcement for Best Picture.
"The presenters had mistakenly been given the wrong category envelope and when discovered, was immediately corrected.
"We are currently investigating how this could have happened, and deeply regret that this occurred.
"We appreciate the grace with which the nominees, the Academy, ABC, and Jimmy Kimmel handled the situation."
It's not looking good.