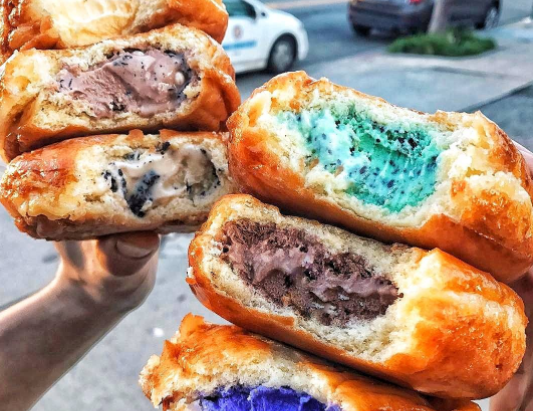 Someone has created an ice-cream filled donut and we are in LOVE
In what can only be described as a feat of food engineering, one innovative bakery in the US have created a combination of sweet treats that you never even knew you needed – until now.
Introducing the ice-cream donut.
The guys and gals over at B Sweet Bar in Los Angeles have blessed the world with their mouth-watering dessert know as the 'Halo'.
According to the shop's official Instagram account, the dish consists of "a scoop of your favourite #icecream heat-sealed inside our fresh glazed donut!!! Hot on the outside, cold on the inside and yummy allover!"
Customers can choose to fill the classic donut with a scoop of their favourite ice-cream, with options of vanilla, mint chocolate chip, cookies and cream, rocky road and chocolate malted crunch to choose from.
B Sweet is also famous for its rotating menu of over 40 different flavours of bread pudding, which honestly looks way more appealing than it sounds.
Alas, these beautiful creations are only available in LA right now, but fingers crossed the recipe will make it onto Irish shores sooner rather than later.