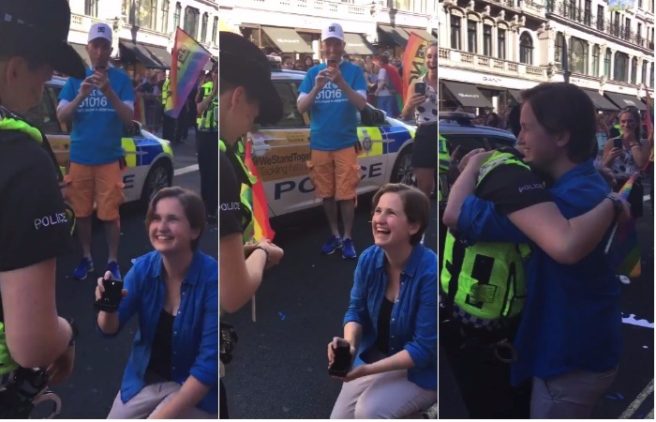 She said YES! This policewoman got a proposal at London Pride
London was awash with colour and love last weekend as crowds took to the streets of the capital city to celebrate the annual Pride festival.
While onlookers enjoyed all the sights and sounds the parade had to offer, one couple used the setting as the background for one of the most special moments of their lives.
In a video that has since gone viral, we see a woman propose to her girlfriend, who just so happens to be an on-duty police officer – and it's by far the sweetest thing you'll see this week.
She said YES!

Congratulations #LoveHappensHere pic.twitter.com/bAmZABMMzD

— BTP (@BTP) July 8, 2017
Of course, she said yes, and their engagement was met with cheers of joy from the crowd.
The women remain unnamed, however the British Transport Police did share footage of the special moment on Twitter.
According to The Sun, the pair have been together for five years and live together in London.
Shortly after the footage was posted online, the couple were flooded with congratulations from members of the public and other police forces alike.
Fantastic!!!!

— Oakham Police (@OakhamPolice) July 8, 2017
This is the UK that I've always loved. Cosmopolitan, tolerant and totally accepting of people as they wish to be.

— (((Wend Grimsdale))) (@gwenodine) July 8, 2017
Congratulations from us all here

— NW Motorway Police (@NWmwaypolice) July 8, 2017
Congratulations both!! So special

— Scott McGlynn (@ScottyMcGlynn) July 9, 2017
Ah that's so beautiful congratulations to you both x

— Angela (@misscutiered) July 8, 2017
We can't help but be reminded of a similar proposal which took place at last year's London Pride parade when police officer, Phil Adlem, momentarily stopped marching in order proposed to his unsuspecting boyfriend who was watching from the side.
Congratulation all around!