'She kicked my ass' Everyone loved Ashton's touching tribute to Mila
Ashton Kutcher and Mila Kunis are undeniably one of Hollywood's cutest couples.
Although the pair are known for keeping a relatively low profile, Ashton has never been shy about letting everyone know just how loved up they are.
Over the weekend, Ashton, who has been known to work closely with local schools and communities, was presented with the Robert D. Ray Pilliar Character Award for demonstrating "good character as a role model" at a ceremony in his native Iowa.
Ashton began his 16- minute acceptance speech by joking that he was probably the only person to ever receive the award who was once "pulled over by a state trooper while tripping on mushrooms".
The actor then quickly turned his attention to his children and wife Mila, who was in the audience at the time. In an emotional tribute he praised Mila, saying: "I mean, I'm telling you, this morning, I woke up and she kicked my ass on character,"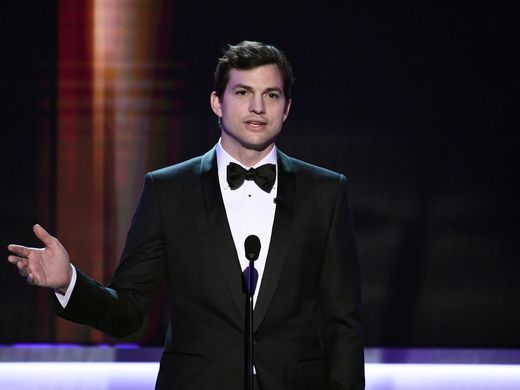 He continued: "I thought I was awesome because I got up early and helped with the kids before she woke up and I let her sleep a little bit and then she's like, 'Well, now you're gonna act tired? I do it every day.' But it was a character moment, right? Because she's right!"
The actor also spoke fondly of his parents saying how he actually felt lucky after they got divorced because they ended up marrying ''amazing'' people.
Gonna watch @aplusk talk when I'm down because he sure has a way with motivational speaking. #Ashtonkutcher #chinup #weretheluckyones

— Kelcie Glenn707 (@kelcie_glenn) April 10, 2017
"As long as you have love and kindness and optimism and a pursuit of something greater in your heart, you're the lucky one"
"So this award is for you. It is for my family, it's for all four of my parents, it's for my wife, who kicks my ass on character every day."
Ashton and Mila first met on the set of hit comedy series That '70s Show back in 1998, but romance wasn't on the cards for the couple until 2012.
The pair have been happily married since 2015 and have been our ultimate couple goals ever since!