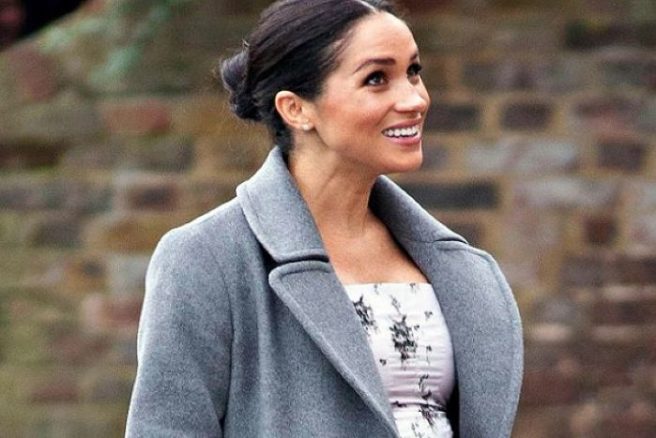 Meghan Markle shows off growing bump in gorge floral dress
Meghan Markle was glowing at her solo royal engagement this morning. The mum-to-be charmed residents at the Royal Variety residential nursing and care home in Brinsworth House in Twickenham.
The Duchess wore a grey and white floral Brock Collection dress that showed off her growing bump perfectly.
She kept herself warm in a sleek grey winter coat by Canadian brand Soia & Kyo.
Lovely dress (pix by PA) for Meghan as she arrives at Brinsworth house. pic.twitter.com/GAzn9SZPYo

— Emily Andrews (@byEmilyAndrews) December 18, 2018
Duchess Meghan looked as beautiful as ever during her visit. She helped make Christmas decorations and enjoyed a merry carol service with the men and women of the Royal Variety nursing and care home.
One woman couldn't help but ask Meghan how she was finding pregnancy and her response was so sweet.
Video: "I'm looking very pregnant today" laughs #Meghan #DuchessofSussex as she meets some of the residents @RoyalVariety Brinsworth House. The nursing and care home looks after those who've worked in the entertainment industry pic.twitter.com/w2cY0zSi4I

— Emily Andrews (@byEmilyAndrews) December 18, 2018
The royals tend to avoid personal questions, but Meghan happily told the residents that she was doing "very good."
She also joked about her blooming bump and said, "I'm looking very pregnant today."
The nursing home helps men and women who have worked in the entertainment industry and are in need of help and assistance due to old age, poor health or hard times.
There's no doubt the former actress charmed the residents during her visit this morning. One of the residents told the Duchess that everyone at the home is friends to which she replied, "I hope I can join the club."
The Duchess of Sussex has certainly been winning over the public during her solo royal engagements. We're sure it can be quite daunting without Harry by her side, especially as he is a professional at this stage, but Meghan is certainly proving she was made for this role.
Feature Image: British Glamour