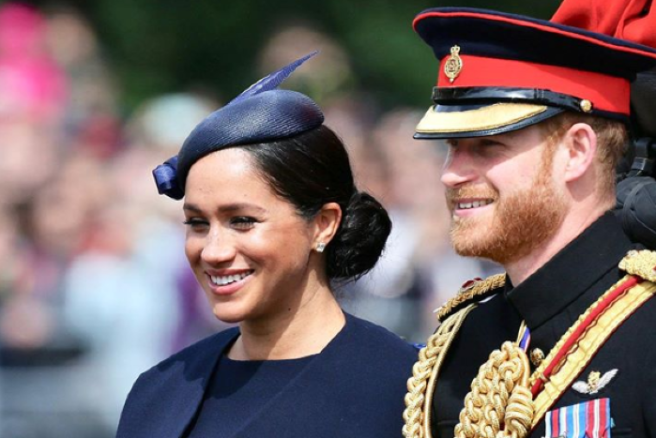 Meghan makes her first public appearance since welcoming Archie
The Duchess of Sussex has made her first public appearance since welcoming her baby boy Archie last month. The new mum attended Trooping the Colour with her husband Prince Harry.
Meghan looked as stunning as ever in a navy blue ensemble by Givenchy and a hat by Noel Stewart. The new mum was glowing as she arrived at Buckingham Palace for Queen Elizabeth's birthday celebration.
Meghan joined her husband Prince Harry, The Duchess of Cambridge and The Duchess of Cornwall for the carriage procession this morning.
Meghan today at the #TroopingTheColour, celebrating Her Maj, The Queen's birthday. She's still on her mat leave but broke that for this one day to be there for the "family moment". Riding in carriage with Harry, Kate and Camilla pic.twitter.com/gmqzEFyyLA

— Victoria Uwonkunda (@Msuwonkunda) June 8, 2019
Queen Elizabeth celebrates her 93rd birthday today, even though her actual birthday is April 21.
The spectacular Trooping the Colour is one of the biggest events for the royals so we're not surprised to see Meghan make an appearance this year.
The #DuchessofSussex #MeghanMarkle makes her first appearance since debuting Archie Harrison to the world at #TroopingtheColour pic.twitter.com/ZYZDXuNtrv

— Carolyn Durand (@CarolynDurand) June 8, 2019
The Duchess has taken a step back from her royal duties as she is on maternity leave. She has not been seen in public since May 8 when she introduced baby Archie to the world with Prince Harry.
It is understood that Meghan will take three months maternity leave, meaning she will officially return to royal duties later in the summer.
A source told The Sun: "Meghan has made it very clear she wants to return to work as soon as possible. She has huge amounts of energy, is extremely determined and wants to be as hands-on as possible with her charities.
"Three months' maternity is standard in the US for American mums – they don't normally get the six or even 12 months women get here in the UK. So this is totally normal for Meghan."
Feature Image: Instagram