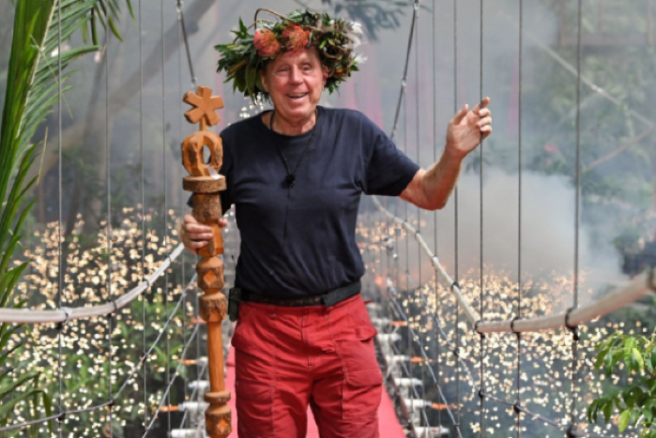 King of the Jungle: Here's Harry Redknapp's best bits on I'm A Celeb
We have our King of the jungle and it comes as no surprise.
Loved both inside and outside of the I'm A Celebrity camp, Harry is a worthy winner and was a hot fave to take the jungle crown.
Although we cannot believe that another series is done and dusted, we HAD to take a look at some of Harry's key moments in the jungle.
From his epic stories, bushtucker trials and to the love of his wife, Sandra Harris – Harry was truly one-of-a-kind.
"I never won the Premier League but I've won this!" #ImACeleb pic.twitter.com/vKy0WLf2QT

— I'm A Celebrity… (@imacelebrity) December 9, 2018
The iconic cyclone trial was no match for Harry, although him shouting about needing a wee, was definitely a highlight.
And we can't forget the moment when he was reunited with Sandra, his wife of 51 years – there wasn't a dry eye in the house.
Their relationship is just so special and Harry was very vocal in the camp about his love for her after all these years – long live their relationship.
The reunion of Harry and Sandra . #ImACeleb pic.twitter.com/zpLZnQkaLB

— I'm A Celebrity… (@imacelebrity) December 8, 2018
As for his last ever bushtucker trail, the 71-year-old met his fear of rats head on and it was hilarious.
His running commentary was TV gold.
And of course, it would be a crime not to mention Harry's rendition of Frank Sinatra's My Way.
Never seen Toy Story.
Not been to the cinema since 1964.
Never had a hot chocolate.

Harry Redknapp everybody! #ImACeleb pic.twitter.com/L7bF4lclkI

— I'm A Celebrity… (@imacelebrity) December 8, 2018
The bookies had selected Harry as the fave celeb to win the show as Harry's personality stole everyone's heart.
Fans even took to Twitter last night to show their love for Harry by tucking into his beloved jam roly-poly pudding.
They gorged on the desert during the hour-long episode in his honour and share pictures of their pud.
They're hoping as soon as Harry is out of the jungle, he can enjoy Sandra's version of the dish.
Ladies and gentlemen, welcome to the star-studded 2018 Jungle Musical! #ImACeleb pic.twitter.com/QKkGXOroCL

— I'm A Celebrity… (@imacelebrity) December 8, 2018
We are thrilled that he took the crown and delighted that Emily Atack was the "princess" of the jungle, coming in at second place.
We are certain the celebrities are glad of a hot shower and some proper grub.
What a season it has been.