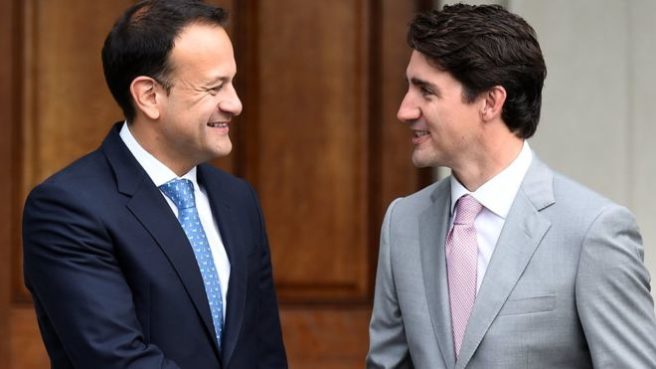 Justin Trudeau urges the Taoiseach to tackle Ireland's abortion laws
Canadian Prime Minister, Justin Trudeau, has urged Taoiseach, Leo Varadkar, to liberalise Ireland's restrictive abortion laws.
The leaders met in Montreal yesterday to discuss a range of issues including human rights, and the controversial Eight Amendment.
The PM and Irish Taoiseach discussed a range of issues including human rights and #CETA in Montréal today: https://t.co/hN2iYSHUqr pic.twitter.com/m3UlRSaX9s

— CanadianPM (@CanadianPM) August 20, 2017
"On the issue of reproductive rights, I shared our perspective that such rights are integral to women's rights and they are human rights and I asked him to look at it as a fundamental human right and we had a good discussion," he said.
Mr Trudeau's advice comes after the hashtag #JustinformLeo went viral this weekend, as Irish women took to Twitter to ask the Canadian leader to discuss the issue of Ireland's abortion ban during the visit.
Will @JustinTrudeau tell @campaignforleo that everybody knows Ireland's secret & forcing women to leave is not the answer? #justinformleo pic.twitter.com/mjsBqJ7wC1

— RepealEight (@repealeight) August 19, 2017
Following a successful meeting, the two leaders marched in the Montreal Pride parade yesterday afternoon.
Kicking off Montreal #Pride with @CanadianPM – #FierteMTL ! pic.twitter.com/tf1L0czFV9

— Leo Varadkar (@campaignforleo) August 20, 2017
Leo will now travel to Toronto where he is due to discuss growing trade, tourism, and investment between Ireland and Canada.