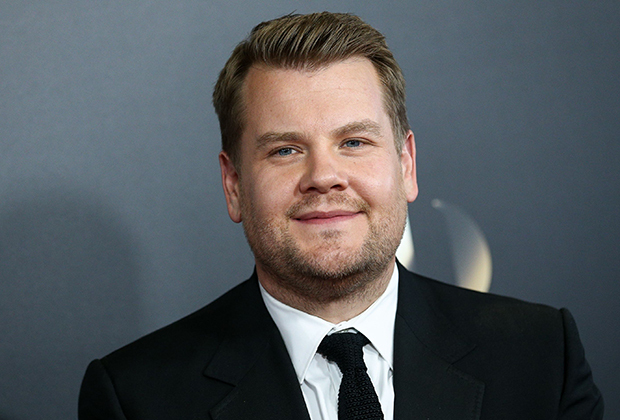 James Corden slammed for 'kissing' Sean Spicer at the Emmys
So, it's fair to say that Sean Spicer caused quite a stir at last night's Primetime Emmy Awards, but it was backstage photo with a certain late night talk show host that has Twitter users in uproar.
Appearing on stage during Stephen Colbert's opening monologue, the former White House Press Secretary divided viewers when he poked fun at his own claim that Donald Trump's inauguration received the biggest crowds ever.
However, Sean wasn't the only one to receive criticism on the night.
After posing for a snap in which James Corden appears to kiss the former White House secretary on the cheek, social media users were less than impressed with the Late Late Show host.
Some compared the interaction to the controversial moment fellow talk show star Jimmy Kimmel ruffled Donald Trump's hair during an interview last September.
"Corden makes Spicer look like a beacon of honour and sincerity. It's like Kimmel ruffling Trump's hair all over again: proper enablers", one viewer wrote.
Others took to Twitter to express their disappointment, with some even accusing the star of "normalising fascism."
If you were ever on the fence about James Corden… allow me to help you decide pic.twitter.com/udxPyFHmrq

— Jayne Sharp (@Jaynesharp) September 18, 2017
Saw a picture of James Corden being all pally with Sean Spicer and now I'm angry. Let's forgive he lied to the American people, yeah?

— Adam Gulliver (@AdamGS) September 18, 2017
James Corden kissing up to Sean Spicer at the #Emmys – what a let down.
Stay there now mate.

— Helen; (@helen_a15) September 18, 2017
James Corden kissing Sean Spicer… pic.twitter.com/H8suULtcmd

— Dan Thomas (@dan_thom) September 18, 2017