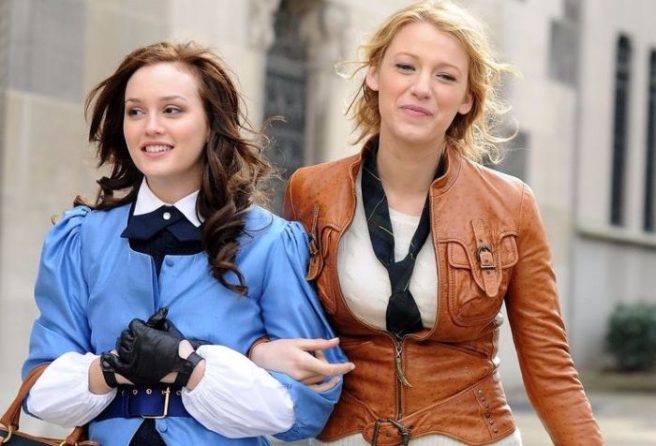 Blake Lively has said she wants a Gossip Girl reunion show AGAIN
Blake Lively, our eternal hair goals and all-round girl crush, has discussed the potential resurgence of the iconic hit series Gossip Girl.
It's been a full decade since the show fist aired (help, where is the time going?) and Blake is up for bringing Serena van der Woodsen back from the dead.
Vanity Fair reassembled the cast to ask them if they would consider a reunion show, and Blake was happy to oblige.
'Of course. I'm open to anything that's good, that's interesting, and that sort of feels necessary. . . . I imagine we all would [consider it].'
'I can't speak for everyone else, but we all owe so much to this show, and I think that it would be silly not to acknowledge that.'
This isn't the first time the star has been happy to say she would do another series of GG.
The star previously told Variety this year:
'Would I do seven years of the show? No, because it's hard work and I've got my babies, and I don't want to be away from them that much.'
'But I've just learned in life you never say never.'
'Who knows,if it was good, if it made sense. We had so much fun shooting and living and working in New York City,' she told Variety.
Leighton Meester, who played the epic role of Upper East Side Queen Blair Waldorf, wasn't as gung-ho on the idea, but didn't rule it out either.
'It's hard to say. If everyone was into it and if the timing was right, you know? I don't want to say, 'No, never . .'
Seriously, this reboot has to happen, there are things we need to know!
Like do Blair and Chuck live happily ever after? Will Serena go back to her partying ways? Does Chuck have any more evil uncles lurking in the woodwork? Did Little J become a hot shot designer?
And most important, is Nate Archibald still a complete and utter babe? (We're sure we already know the answer to that one)