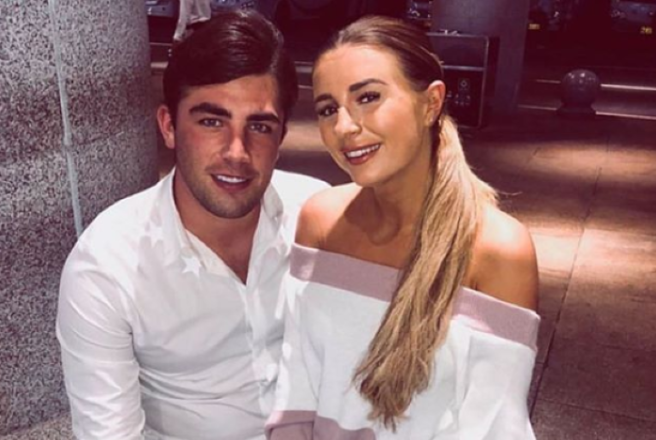 Bad decisions: Dani Dyer opens up about 'tough' public breakup
Love Island was full of drama that captured our attention for the entire summer.
However, the antics soon continued after the couples had left the villa.
A highlight of last year that had us totally shookth was Dani revealing that she had split from Jack.
The Love Island winners totally stole the hearts of the nation and their ending came as a total surprise.
To refresh the old memory, Dani took to her Instagram stories to announced their separation.
"Jack & I have sadly decided to part ways. It's been an incredible six months, and we will always have a place in our hearts for each other, but sadly we've come to the realisation that it's not meant to be long-term," she wrote.
The story was quickly deleted – and their fans took a collective sigh of relief when they explained the break-up was just a lovers tiff.
Dani has now explained on Capital Breakfast with Roman Kemp about what had happened in the run up to posting that story.
"You know what, it was tough. I think I definitely made the whole mistake of the whole Instagram thing,' she explained.
"You know, like, as a girl you think 'I'm just going to do it', you think it's done but it wasn't" – we can relate to this one, for sure.
The couple are now back on our telly screens with their new ITV reality show, Dani and Jack: Life After Love Island'.
Although having a relationship in the spotlight doesn't come without it's struggles, Dani insists that since their wobble, they've come back even better.
"And with me and Jack, we're trying to build on things and grow as a couple and learn about each other, and when you've got everyone sort of on you and taking pictures of you, you make bad decisions and you think 'well maybe we can't do it'," she said.
"We've come out the other side and we was like 'let's just spend Christmas together' and I feel like we're getting a lot stronger now so it's better for us. It's me, I always do silly things. It's such a Dani thing to do," she added.
As for their debut on ITV last night, there was a very mixed reaction to their new show amongst viewers.
Whilst some fans were delighted to see them back, and looked forward to more – it wasn't everyone's cup of tea.
Caught up on Jack and Dani life after love island earlier, its good to see they are stronger then ever and happy! I love loved the show @Dani_MasDyer @jack_charlesf

— Charlotte (@Charlcurleyx) January 8, 2019
Such a good episode of jack and Dani life after love island. Can't wait to watch Tommorows episode now @Dani_MasDyer @jack_charlesf

— (@parmacorderoyy) January 7, 2019
Cant help but think Jack and Dani from love island are so fake

— Natasha Cumming (@natashachloe__x) January 7, 2019
Watched the jack and dani programme last night and recorded this one. Never again!! Jack and dani have nothing compared to this couple. They're such a cute couple! And Spencer is bloody hilarious #SpencerVogueAndBabyToo

— rebecca louise (@beckyriri86) January 8, 2019
What did you think of last night's episode?