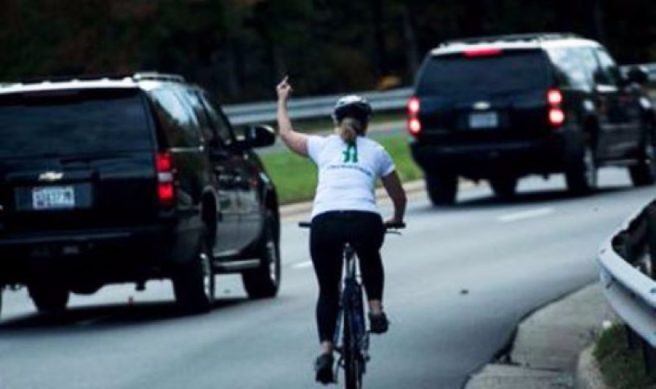 Public raise $50,000 for cyclist who flipped off President Trump
Juli Briskman may have lost the support of her employers after making a lewd gesture as she cycled past President Trump's motorcade in recent weeks, but the same certainly can't be said of the general public.
In the wake of Juli's dismissal from government contracting firm, Akima LLC, a member of the public named Rob Mello established a GoFundMe page entitled 'Thank You Juli Briskman' which has raised almost $60,000 in just six days.
"Juli Briskman is an inspiration to us all," Rob wrote as part of his introduction to the fundraising page.
This is on behalf of Juli Briskman who was fired from Akima LLC because she flipped off your motorcade. #julibriskman pic.twitter.com/ALUo8EvMIo

— Brittney Bausch (@brittab84) November 6, 2017
"This week we learned that she was fired from her employer for exercising her first amendment rights. You can show your support by donating here."
"I have connected with Juli and she has been officially setup as the beneficiary on this GoFundMe campaign. All proceeds are being donated directly to Juli."
"As the campaign beneficiary, she will be able to post updates and comments, so stay tuned!"
Sexually assualting women gets you praise, but apparently for normal people flipping the president off gets you fired#julibriskman #bs pic.twitter.com/Kurimgfd35

— Robin (@ROsindele) November 6, 2017
Juli's dismissal came after she chose to share the motorcade image on her social media pages in the days that followed her encounter with the President of the United States.
Speaking to The Huffington Post, Julie explained the circumstances surrounding her dismissal, saying: "Basically, you cannot have 'lewd' or 'obscene' things in your social media. So they were calling flipping him off 'obscene.'"
Speaking to The Washinton Post, Juli insists that she does not regret her decision despite it costing her her job.
"I flipped off the motorcade a number of times," she admitted before adding: "I'd do it again."