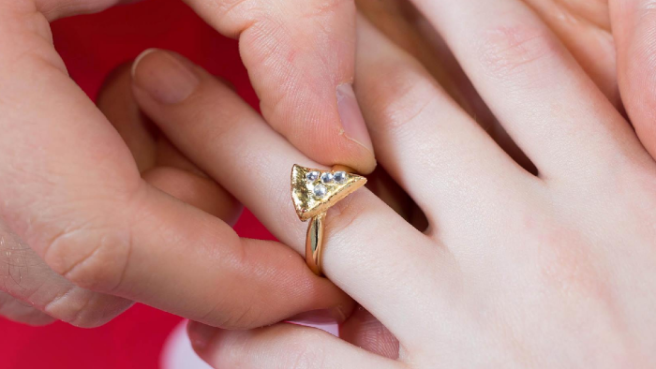 What? This pizza engagement ring is one cheesy way to propose
While we all love pizza, we're not sure that we love the fast food enough to justify having it symbolise our engagement.
However, to each their own, and Domino's have released a limited edition Domino's pizza slice engagement ring, perfect for the pepperoni lover in your life.
The ring was available to win (for UK and Northern Ireland residents only, sadly) by competition only over Valentine's Day on the Domino's UK Facebook page.
"We're constantly innovating to make our customers' lives easier – and our new pizza engagement ring is the ultimate gift for someone planning to pop the question this February 14," a Domino's spokesperson told Scotsman Food and Drink.
The one-of-a-kind ring features a single pizza slice speckled with little diamond pepperoni on a gold band.
I'd marry myself if I was able to get my hands on the @dominos pizza engagement ring. So sad I missed out winning it #pizzaislife

— Nicole Read (@MsNicoleRead) February 14, 2017
We're not sure how we'd feel if someone proposed to us with a pizza ring, but for any hard core Domino's lovers, it would work like a charm.
All this talk of pizza is making us pretty hungry….