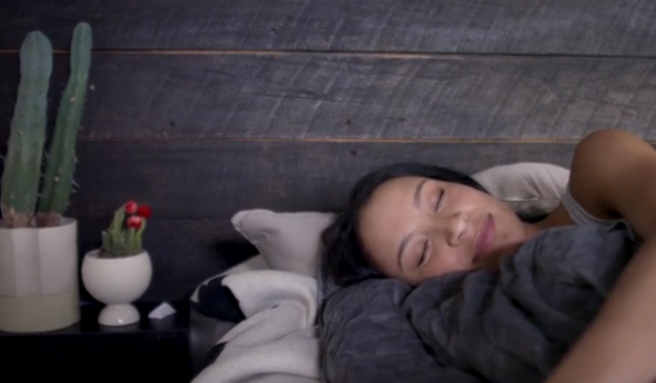 This blanket is designed to help people with anxiety sleep better
It can be difficult for anyone to get a good night's rest, but for people with disorders like anxiety and insomnia it can be even tougher.
Luckily, a brand new blanket concept has been invented which is proven to help us all get the best quality kip.
There has been plenty of research done of the positive effects of weighted blankets, and a new company called Gravity has taken that research on board to create a new product to comfort those who are stressed or suffering.
Gravity is a weighted blanket engineered to be 10 per cent of your body weight, to naturally reduce stress and increase relaxation through deep pressure simulation.
Deep touch pressure stimulation is a well regarded therapeutic method that stimulates pressure points on the body linked to improved sleep, mood, and relaxation.
'Over the last year, we've studied the incredible science and medical research about the positive affects that weighted blankets can have on serious conditions like PTSD, OCD, insomnia and serious anxiety,' said John Fiorentino, the creator of Gravity.
So there is an invention called Gravity which is actually a blanket to comfort people with anxiety.#Shutupntakemymoney!

— Jane Doe® (@girllitasf) May 5, 2017
People are clearly calling out for the product, as the Kickstarter campaign to raise $21,500 for the production of the blanket has raise an astronomical $3,036,603.
Becoming a blanket burrito has never sounded so appealing.