The Force is awake! 9 highlights from the Star Wars première
Unless you have been living under a ROCK for the past month, you will be well aware (if not overly excited) that Star Wars: The Force Awakens is about to hit our screens this week.
Whether you have been enjoying or loathing all the build up, last night's Los Angeles première looked like a helluva lot of fun.
And if the initial outstanding reviews have not got you super excited, then brace yourself for the nine best moments from last night's red carpet.
1) Joseph Gordon Levitt took his fandom to new heights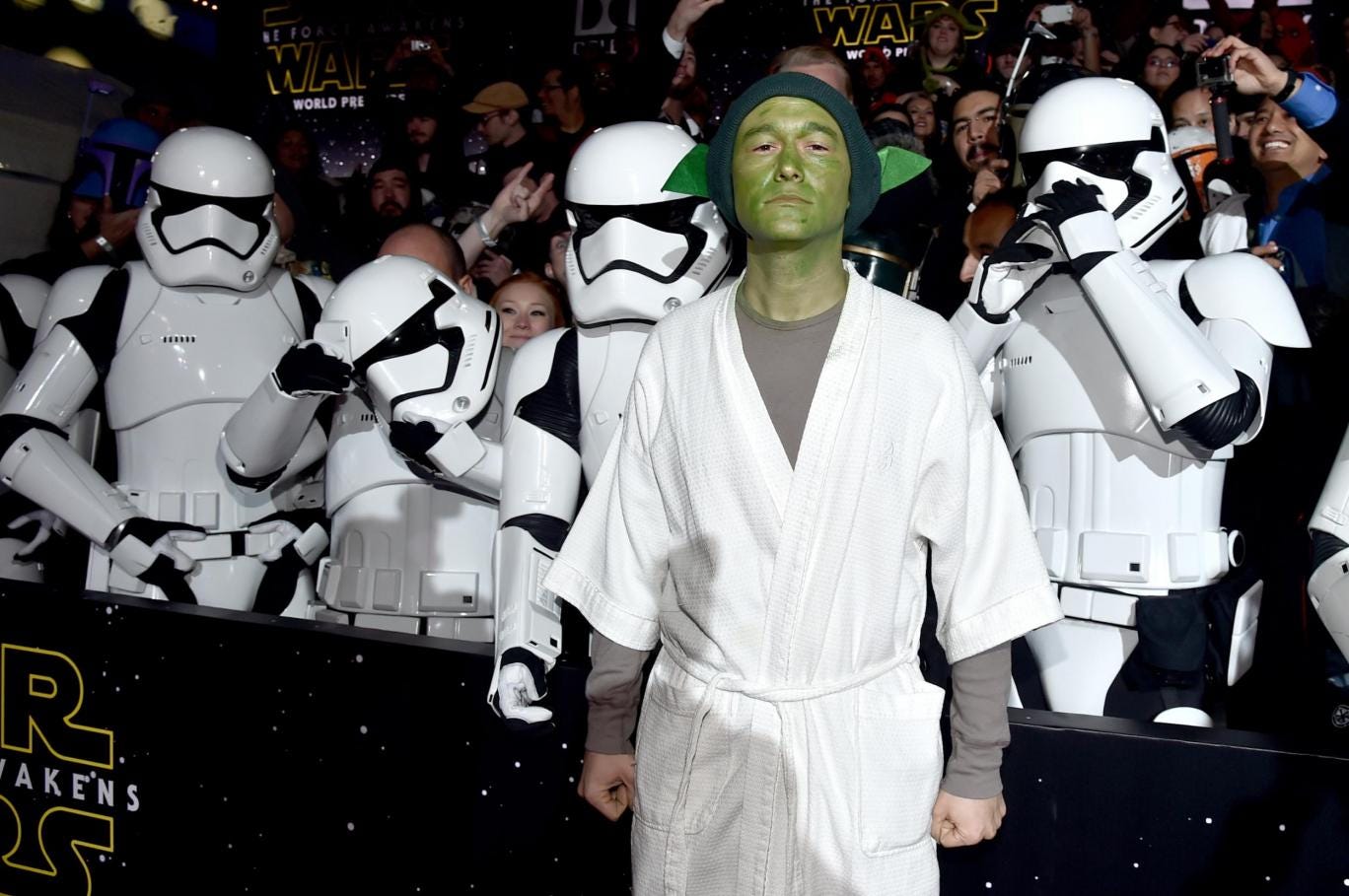 And yeah he pretty won the entire night dressed up as Yoda.
2) Sofia Vergara and Joe Manganiello made their first post-marriage red carpet appearance
And Sofia even paid homage to the early films by donning a Princess Leia inspired hairdo.
3) Harrison Ford proved that he still has it
He looked better than ever on the red carpet with his wife, Calista Flockhart.
4) The robots absolutely killed it
This little guy was moving around the carpet by himself.
5) The after party looked RIDICULOUS
#StarWars premiere after party is trippy pic.twitter.com/5s3OCvOlrN

— Rebecca Keegan (@ThatRebecca) December 15, 2015
Party goers enjoyed being flanked by stormtroopers whilst eating Hans Solo's face on a cake. The DREAM.
6) Lupita Nyong'o was hands down best dressed (but new star Daisy Ridley gave her a run for her money)
We have to give Lupita the win though for her robotic inspired look.
7) It was a cosplay fans DREAM
It all looks SO REAL.
8) Domhnall Gleeson brought his Dad
And they obviously enjoyed a sneaky pint.
8) George Lucas got a standing ovation
Rumour has it that the auditorium stood to acknowledge the director of the original films after he had shared a moment with the new director, JJ Abrams, on the red carpet.