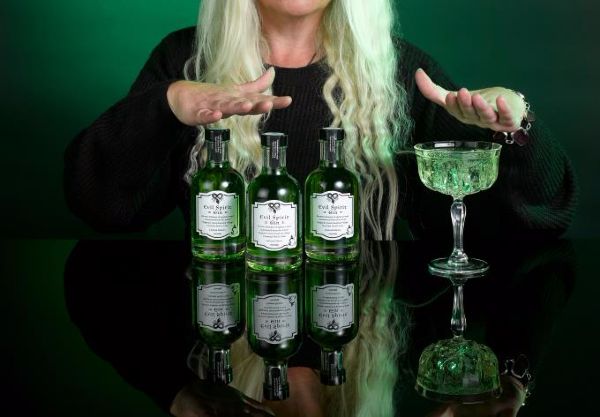 Halloween is just around the corner, and things are certainly starting to get spooky around the place.
Well, rather than run and hide from the ghosts and ghouls, we've decided to totally embrace all the spooky wonder that comes with this time of year.
With that in mind, we'd like to kindly introduce you to "Exclusive Evil Spirit Gin" – a terrifying tipple, green in colour/.
The folks at Moonpig are selling a very special kind of gin, and each bottle has been individually 'cursed' by an actual witch.
Yes, an actual witch.
Her name is Julianne White, and she has been a practising witch for over 20 years, and we are pretty obsessed with her.
According to the website, "This wickedly delicious gin is made with an infusion of mint, apples, and a dash of Devil's Claw. But, these aren't just any ingredients. The apples and mint are plucked from Pluckley, which is England's most haunted village according to Guinness World Records. From the Watercress Woman to the farmer Edward Brett, it's rumoured that there are at least 12 haunted spirits in this quintessentially English village."
Oh, and if that isn't enough to send a chill down your spine, each bottle has been individually 'cursed' by professional witch, Ms. Julianne White. A bespoke blessing has been cast over the gin during October's full moon to enhance the effect of her unique spell: "The blessing empowers the drinker to follow whatever their hearts desire – whether it is for good or evil".
Please enjoy responsibly. These tantalising tipples should not be consumed during a full moon. Just as an FYI, Moonpig is not responsible if you're transformed into a toad, zombie, or werewolf.
These exclusive and limited edition gin bottles will haunt any Halloween cocktail – how COOL?
A 20cl bottle of this exclusive Evil Spirit Gin (Alcohol by Volume: 40%) will set you back £13 – which is not too bad.