In their new book, Recipes for Happiness, The Happy Pear share an incredible recipe for pizza that won't make you feel guilty.
"How to make pizza that 'tastes great and a little healthier' was the motivation for this one, the boys say. There are lots of ways to make the base, and here we're giving you a no-yeast recipe that is super-quick.
To be gluten-free, try buckwheat flour instead. The tomato sauce is full of flavour, to balance the dense wholemeal base. Our topping suggestions are pretty out there, but they are delicious and really work!"
So don't be shy, roll up your sleeves and give it a go!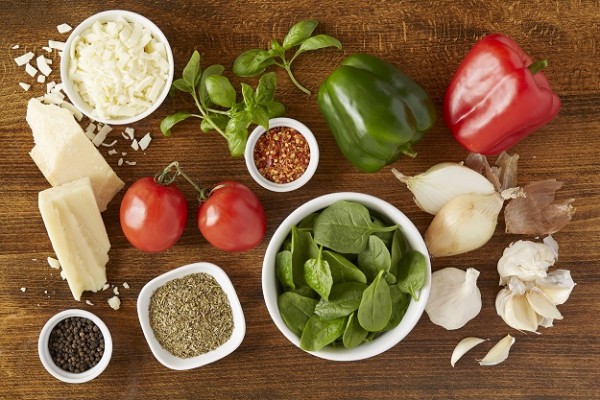 Pizza three ways
Ingredients
For the base
200g white flour
200g wholemeal flour, plus extra for dusting
2 teaspoons baking powder
¾ teaspoon fine sea salt
2 tablespoons oil
220ml water
For the tomato sauce: (makes 500 g)
8 sun-dried tomatoes
2 cloves of garlic
1 x 400g tin of chopped tomatoes
2 tablespoons olive oil
1 tablespoon maple syrup
½ teaspoon sea salt
a pinch of freshly ground black pepper
1½ teaspoons balsamic vinegar
Method
1. Preheat the oven to its maximum temperature.
2. Sift the flours and baking powder into a bowl, then add the salt and oil. Mix well in a circular motion, using your clean hands held in a claw-like shape.
3. Make a well in the middle and slowly add the water. Coat your hand with a little flour and mix until all has come together. Divide the dough into four equal-size balls.
4. Coat a rolling pin with a little flour to stop it sticking. No need to knead the dough, just roll it out using the rolling pin. Roll each ball out as thin as you can (no more than 5mm thick), to ensure a crispy thin base.
5. Sprinkle a little oil and flour on a baking tray to prevent sticking, then gently place your base on the tray and bake in the preheated oven for 8 minutes, without any topping, to ensure a crispy base.
6. Meanwhile, in a small pot, boil the sun-dried tomatoes for 5 minutes, until they become soft and easier to blend, then drain. Peel the garlic.
7. Put all the ingredients for the tomato sauce (including the sun-dried tomatoes) into a blender, and whiz until smooth.
TOPPINGS
"Here are three of our favourite topping suggestions (each recipe is enough for four pizzas)."
POTATO, RADICCHIO, CHEESE AND WALNUTS
1kg waxy potatoes (such as Ditta or Maris Piper)
2 tablespoons oat milk
3 tablespoons olive oil
¾ teaspoon sea salt
1 teaspoon ground ginger
1 head of radicchio
100g vegan cheese, or other cheese of choice
25g walnuts
1. Boil the potatoes until soft, drain, then mash using a potato masher or large fork, adding the oat milk, olive oil, salt and ground ginger until the mash is thick but has a nice creamy taste.
2. Chop the radicchio in half, remove the firm core in the centre and bottom that is holding it together, and cut the rest into thin, small bite-size pieces. Grate the cheese. Lightly crush the walnuts.
3. Slather a generous serving of tomato sauce on your precooked pizza base, but aim for only a quarter of the sauce you've made – you don't want to make the base soggy. Gently spread over the mashed potato to give a decent base layer. Next, sprinkle on about three-quarters of the radicchio, the lightly crushed walnuts and a good handful of cheese.
4. Transfer to a warmed baking tray and bake in your hot oven for 8 minutes, until the base is nice and crispy and the topping is turning golden. Bake for longer if the base is still soft. Sprinkle with the rest of the radicchio to give it a nice pop of colour.
KALE, MUSHROOM, CHEESE AND ALMONDS
100g kale
2 tablespoons olive oil
a pinch of sea salt
100g vegan cheese, or other cheese of choice
100g oyster mushrooms, or other mushrooms of choice
3 tablespoons tamari/soy sauce
30g flaked almonds
1. Using your clean hands, remove the kale from its stalks and rip into bite-size pieces. Add the oil and salt and massage for a minute, allowing the salt to tenderize the kale.
2. Grate the cheese. Roughly chop the mushrooms and put them into a bowl. Add the tamari and mix well so that each piece of mushroom gets nicely coated.
3. On your pre-cooked pizza base, spread a generous serving of tomato sauce (about a quarter of the quantity you've made). Cover with kale, a good sprinkling of cheese and some oyster mushrooms, and sprinkle some almonds on top.
4. Lay the base on a heated baking tray and put into the hot oven for 4–6 minutes, until the cheese melts and the base starts to brown slightly.
FIG, ASPARAGUS, CHEESE AND CASHEW NUTS
4 fresh figs
100g vegan cheese, or other cheese of choice
200g fresh asparagus, or trimmed fine green beans
1 tablespoon oil
a pinch of sea salt
25g cashew nuts
1. Thinly slice the figs and grate the cheese. If using asparagus, remove the woody base of each spear. In a bowl, dress the asparagus spears with the oil and salt.
2. Spread about a quarter of the tomato sauce you've made on your pre-cooked pizza base, then sprinkle over the cheese and a layer of figs. Top with asparagus and a sprinkle of whole or chopped cashew nuts.
3. Transfer to a warmed baking sheet and cook in the hot oven, until the cheese melts and the base starts to brown slightly and crisp.
The Happy Pear twins are back with a new book, packed with affordable, quick and easy veggie options, as well as clever meat-free versions of popular favourites and inspiring advice on how to be healthier!
With a huge section of economical easy dinners that can be rustled up in 15 minutes (Thai golden curry, one-pot creamy mushroom pasta); gorgeous hearty dishes (goulash, Greek summer stew); a selection of plant-based alternatives to family favourites (burgers, hotdogs), AND irresistible treats (summer fruit Bakewell tart, double choc brownie cake), Recipes for Happiness is your new favourite cookbook!